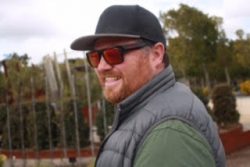 Blind Bight resident and stroke survivor Mark Curry is encouraging the Casey community to join him in donning their active wear and striding for stroke this November.
Stride4stroke is the Stroke Foundation's annual physical activity and fund-raising campaign, encouraging people of all ages and abilities to get moving and reduce their risk of stroke.
Mark was a fit and healthy 31-year-old business owner and father of three when he suffered a stroke nine years ago.
He is taking part in Stride4stroke to support other stroke survivors on their journey to recovery.
"I was shocked to learn from the Stroke Foundation that stroke kills more men than prostate cancer, more women than breast cancer and leaves thousands with an ongoing disability,'' Mark said.
"Yet stroke is largely preventable. By simply getting moving we can all reduce our risk of stroke.
"Through Stride4stroke I will focus on reducing my own stroke risk, as well as increasing awareness of stroke in the Casey community.
Stride4stroke participants are encouraged to simply get moving. They can walk, run, swim, cycle or roll in a wheelchair, with every kilometre tracked against their chosen target. It's open to individuals and teams of all fitness levels and friends are invited to donate towards their efforts.
Stroke Foundation Chief Executive Officer Sharon McGowan said funds raised during Stride4stroke would support StrokeLine, the only dedicated helpline for stroke survivors and their families in Australia.
"The StrokeLine team is just a phone call away and provides support along with information and advice on stroke prevention, treatment and recovery, but funding is vital to keep this service operating.
"I am proud of Mark for signing up to Stride4stroke. I urge fellow Casey residents to join in the fun by registering or joining a team, or donating to his campaign.
"Every step you take during November can reduce your own stroke risk and make a difference to stroke survivors and their families throughout the journey to recovery."
Follow Mark's lead and register today for Stride4stroke at www.stride4stroke.org.au or donate at https://stride4stroke17.everydayhero.com/au/mark.