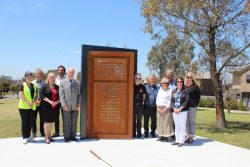 By Brendan Rees
City of Casey unveiled a new memorial site to the more than 100 people who had gathered at the Lyndhurst landmark to commemorate Remembrance Day on 11 November.
Located at Figtree Walk Reserve in Lyndhurst, the memorial includes a door which represents the 'homestead door' for the eight local men who fought and never returned.
Council funded $67,500 towards the project, while more than $21,000 was contributed from various local sources, including from fund-raisers held at the hall before it burnt down.
In 1944, the Lyndhurst Memorial Hall was destroyed by a fire and council has been working since 2015 to deliver a new memorial site to the area.
City of Casey Mayor Cr Geoff Ablett said the site was designed to honour eight soldiers from Lyndhurst who didn't return from both World War I and World War II.
He praised the hard work of both council officers and residents who ensured that a new memorial was built.
"These local landmarks are an important part of our community, to ensure that our residents have a place where they can reflect and remember those who made the ultimate sacrifice for our country," Cr Ablett said.
"This new memorial complements the current reserve and is easily accessible from the road through the creation of a new walking path.
"While there will not be regular memorial services held here, the public is encouraged to view the memorial and use it for peaceful observance."
The memorial helps to serve in honouring these people while enhancing a family friendly space, and assists in educating residents about the history of the local area.
Cr Amanda Stapledon said the memorial was "beautiful and so meaningful."
She said the door symbolised what the servicemen were fighting for: "Home, family, country and freedom and the sacrifices which they made.
"It makes me want to cry. We know there's so many that didn't come home."
Dandenong/Cranbourne RSL Sub Branch president John Wells OAM said the new memorial was "imaginative and creative" and important for future generations.
"It really does tell a point in the story of departure that left a safe and well-known and well-ordered life to go into great danger – and some of them never came back. I think the memorial shares that better than any other memorial in the country."
"We want to keep this the lucky country and that means people have to be prepared to look after each other."
Council would like to recognise and thank Geoff Kirkham, as well as Helen Fotheringham, Jenny and Howard Coleman, Ric Techow and Rod Greaves for their efforts in helping to deliver the new memorial. It also acknowledges the support provided by local RSLs.