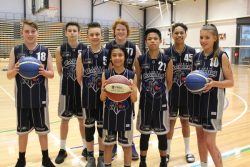 By Russell Bennett
The basketball stars of tomorrow rising through the ranks of the Casey Cavaliers just continue to take massive strides forward, with eight young players selected in Victorian state teams for the Southern Cross Challenge.
The competition has a heavy focus around developing the best young basketballing talent coming through the ranks right across Australia, and marks the beginning of the high-performance pathway.
Young Cavaliers Joel Nelthropp, Ethan Bolton and Archer McMenamin were named to the under-14 boys Vic Metro side, while Dakota Crichton was named to the under-14 girls Metro team. Joshua Rawiri was named in the Vic Country under-15 boys team, while Mason Heather, Blake Shankland and Nemuel Soliven were named in the under-15 boys Metro side.
Archer told the News just how he reacted to his selection.
"I was honestly shocked," he said.
"Coming from two seasons ago in the Cavs and not being even able to hit a layup, to now (being selected) in the state team … my family is really proud."
Archer is a powerful presence as a centre and uses his strength to post-up with great effect. He has worked on being more confident handling the ball, and has started to demand possession in the post even more. His next goal is to reach another state team and to continue to progress.
Joel, meanwhile, was just six when he started playing the game he now loves so much as an up-and-coming point guard.
"I didn't know much about it, but I progressed and I learnt a lot from my coaches," he said.
"I tried out for this state team at the start of the year, and then we did the second one (tryout).
"I was really nervous coming in because here were all these bigger guys, and I'm not that tall, but I went to the third (tryout) and I just wanted to give it my all. I went there and did everything I could, and then I was waiting on that day and I finally got in. I was just so excited, just learning and progressing."
The super versatile Dakota started her Cavs journey three years ago.
"Luckily, I got into the ones but I wasn't very good," she said.
"Lara, who's my coach, developed me a lot, and I moved on to the next season and got in the ones again and moved up to VC level and got asked to go into the trainings."
While Joel uses his exquisite ball handling to great effect, driving to the basket is one of Dakota's biggest strengths.
Each of the young Cavaliers selected to the Southern Cross Challenge teams have credited their families, and the Casey basketball family, for helping them on their journeys.