By Nick Creely
There are cracks beginning to emerge in Casey-South Melbourne's season, and despite the Victorian Premier Cricket year still being young, the Swans are anchored right down in the lower echelons of the ladder.
In a vitally important game on Saturday at Casey Fields against St Kilda, the Swans barely gave a whimper.
After Rob Quiney sent Lachlan Sperling and his Swans in to bat, left arm quick Harry Hall got the Saints off to the perfect start with Dev Pollock falling third ball for a duck.
Three more relatively quick wickets fell as the seamers took the top order apart, with the Swans struggling badly at 4/27.
Michael Wallace (29) and Chris Benedek (35) stayed patient, building slowly and riding some near misses to steady the ship.
Wallace hit some lovely lofted boundaries and an expertly crafted reverse sweep to kick-start the revival off the slower bowlers in Michael Beer (1/25) and Rob Quiney (0/18), and started to bring the game back to level pegging, while Benedek was rock solid in defence.
The pair put on a solid 59-run stand to consolidate the innings, with both batsmen doing a fantastic job of turning the strike over and protecting the lower order.
When Wallace and Benedek fell, the score was 6/113, and there was hope the Swans could push upwards of 200.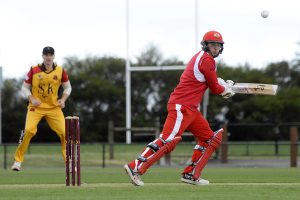 All-rounder Dylan Hadfield (37) provided the fireworks, cracking three fours in a row and lifting a six over fine leg's head to swing the momentum back Casey's way, but wickets once again began to tumble around him.
A terrific spell by Saints all-rounder Damon Egan (2/17) brought the undoing of Brendan Rose LBW and Nathan Lambden, and the Swans eventually dragged the score to 159 off 45.5 overs after some late runs from Leigh Diston and Jackson Fry.
A swift start from Saints' openers Marcus Harris (17) and Harry Michelmore (53) got the run chase off to the perfect start, before returning left arm quick Fry (1/23) snared the scalp of Victorian Bushranger Harris, brilliantly caught in slips by Benedek to deliver some much needed momentum.
But Fry's wicket was one of just two for the innings, with Michelmore and Rob Quiney toying with the home side in a perfectly crafted limited overs partnership of 61 runs.
Quiney (61 not out) was full of class, expertly turning the strike over and putting the bad balls away, and all it took was 35.4 overs for the Saints to win by eight wickets.
It caps off a horror start to the season for the Swans, with last year's finalists slipping to 0-3 and only percentage off the bottom, with Greenvale only slightly behind.
Worryingly, they have taken just 13 wickets from the first three matches with key strike bowlers Nathan Lambden and Brendan Rose starting the season slowly, and are once again struggling with starts from their batsmen, and without the inform Jordan Wyatt or 2016/17 opening batsman Luke Manders.
They get a chance to bounce back and get on the board in 2017/18 when they face Dandenong at Shepley Oval on Saturday, in what will be Panthers' skipper Tom Donnell's 200th match.
It looms as almost a mini final, in what has been a lacklustre opening three weeks.