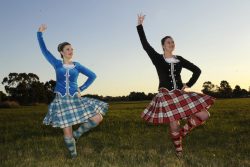 By Victoria Stone-Meadows
Two young women from Casey will be dancing their way around the country when they perform in the international smash hit highland dancing spectacular Scotland the Brave.
Jacqui Houlihan, 23, from Cranbourne North and 17-year-old Chelsea Frederickson from Cranbourne will be among 100 plus singers, dancers and musicians on show.
Ms Houlihan has been highland dancing for over 13 years, and has been awarded multiple dancing championships from all over the country.
She has danced in high pressure performances including the Edinburgh Military Tattoo on the two occasions it has been held in Australia.
Her love of highland dancing was sparked when she visited the Berwick Highland Gathering with her family when she was just 10 years old.
"I was completely captivated by the colours of the kilts and by the dancing; it was something a little bit different," she said.
"I was handed a flyer by my soon-to-be dance teacher to come and learn, so I went to a class from there and I just loved it."
Ms Houlihan said she was involved with other dance styles at the time, but nothing compared to excitement of highland dancing.
"It's something really different; I was in ballet and other dance at the time and highland dancing was something I hadn't really seen before," she said.
"I have grown to have such a passion for it, and being able to do shows like this and have such an opportunity as well as the life experiences that have come as a result of highland dancing is a massive positive."
Chelsea Fredrickson started highland dancing when she was just five years old, and takes classes at a local Cranbourne dance school.
She said she really enjoyed her classes and the energy of competitions was what kept her dancing.
"The moment I saw the highland dancers at the Federation Tattoo in Ballarat, I couldn't stop talking about it," she said.
"I was mesmerised by their swords and their socks; I wanted them both, and I was only five at the time."
"The energy, the focus, the drive and the commitment of not only my teacher but class-mates and their families keeps me going."
Chelsea has been lucky enough to dance competitively in Scotland, and hopes to one day teach dancing to pass on her skills and knowledge to the next generation.
She said while she was nervous about dancing in 'Scotland the Brave' she was really looking forward to it.
"This is a great opportunity to give back to the community that helps and keeps the Scottish heritage in Australia alive," she said.
Chelsea's mother Jodie Fredrickson said she was looking forward to seeing her daughter dance and be able to enjoy the full performance.
"I'm incredibly proud of Chelsea," she said.
"I normally get to be the taxi and entourage; packing costumes, helping with hair and getting us to airports or driving to competitions and championships."
"I normally get to see a dance here or there and not really get to sit back and enjoy the event."
These talented ladies will be heading off around the country from the end of June to late October with shows in Melbourne, Perth Brisbane and Sydney.
To find out more about the show visit www.scotlandthebrave.com.au.