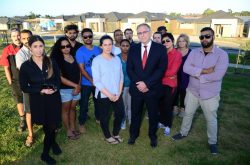 By Victoria Stone-Meadows
Residents of Belmond on Clyde will receive satellite phones in lieu of a massively delayed NBN connection and nearly non-existent mobile phone reception.
Households at the new Belmond Estate have been waiting for telecommunications services to be installed for months.
When residents first started to move into the estate late last year, they were told NBN Co would have their phone and internet switched on by 1 December 2016.
However, that date has been continually pushed back with residents now being told they can expect to have fixed line telecommunications in the estate by 8 May 2017.
Development Manager with Belmond Wendy Scroggie said that NBN Co signed off on the developer's obligations for site accesses in May 2016, with work not beginning on connecting the service inside the estate until January 2017.
"As the developer, we entered into a contract with NBN Co to have the service rolled out through the estate; to do this we need to install a pit and pipe network within the subdivision," she said.
"The developer had these requirements we needed to meet and once the works were complete, then the NBN would roll through."
"Stage one, two and three were signed off by NBN Co in May 2016 that we had met these requirements."
Despite the sign-off in May and the promise of connected telecommunications to the estate in December, not one resident of Belmond has an active fixed phone or internet connection.
Jenny was one of the first residents to move into the estate in early November 2016 and has since been petitioning the other residents and leading the charge to get phone and internet in the estate.
"We currently have no mobile reception, no landline, and no internet; it's a black hole of communications as everyone here can attest to."
"We have had a number of emergencies in the estate where people have been unable to call out in case of an emergency, people have lost business opportunities, people have small businesses and are unable to do anything from home; it's having a big effect on people's income not to mention if something did happen we can't contact emergency services."
Peter is a chauffeur who said he had lost thousands of dollars in missed business opportunities since moving into the estate on 20 February 2017.
"Every night I get work emails but because I don't get signals coming through saying there is mail, I have to go down road to open my emails and by the time I've done that, the work has been allocated to someone else," he said.
Janine runs a cleaning company as a transport business and cannot do her weekly invoicing from home and it has cost her business both time and money since moving in on 12 January 2017.
"The invoicing program takes a long time if I can get online at all and it's hard to get into it; a lot of the time it won't run because there is not enough service," she said.
Prabhu moved into the estate on 23 November 2016 with his young twins and then pregnant wife and has found having no telecommunication services to be an awful experience.
"There was an instance she had to get an appointment at the hospital and I was working and she was by herself," he said.
"It was just a routine appointment but trying to get a taxi was really difficult and once we got the taxi, we couldn't tell the driver directions."
MP for La Trobe Anthony Byrne has been working with households in the estate to help get them connected but said it wasn't until they protested in the streets that they were heard.
"It's 2017 and we have a really nice group of people who buy into a lifestyle and a future and they don't have a phone or internet, and they don't have mobile phone access, it's just unbelievable," he said.
Mr Byrne said his office had been in contact with NBN Co and Telstra constantly since the issue was bought to his attention, but it was the power of the people that has moved them along.
"A group of people have got together and now we are making it possible and working with them," he said.
"The fact of the matter is if it is happening here it is probably happening somewhere else too. Why did people have to protest in the streets to get something they were promised on the first of December?"
"They shouldn't have to subject themselves to the public spotlight to make this happen. People are entitled to a service they are told would be provided."
NBN Co Victorian spokesperson Michael Moore said the delays in connecting the service to the estate stemmed from works outside the estate boundary.
"Delays in connecting NBN services at Belmond Estate in Clyde have been due to design delays and construction challenges relating to the 7.8-kilometre fibre haul required for connection," he said.
"We have also encountered some blockages during the fibre haul that were related to roadworks."
NBN Co has apologised to residents for the frustration and inconvenience this has caused and assured them that their connection has been prioritised.
Residents, Anthony Byrne and the developer have also been in contact with Telstra to rectify the lack of mobile phone coverage.
While the residents are pushing for a new mobile tower to provide reception to the estate, Telstra have offered satellite phones to all residents until a more permanent solution can be achieved.
Telstra was contacted for comment, without success.