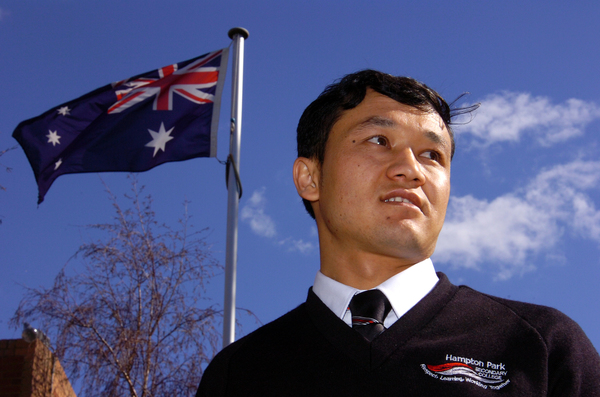 GHULAM Abbas was 19 and alone when he arrived in Australia from Afghanistan as a desperate refugee.
Now, just 10 months later, Ghulam is making a new life for himself, thanks to a lot of hard work, determination and some support from Mission Australia's Transition to Work program.
Safely in Australia, Ghulam was determined to complete his secondary schooling and pursue his dream of becoming an apprentice electrician.
He enrolled in English classes, but found the going tough because of the diverse English skill levels of his classmates.
Adding to his frustration was the fact that every school Ghulam applied for had rejected his application, with most not offering an explanation.
Stranded in a new country and with no family support, Ghulam's dream seemed impossible.
However, his hopes were revived when a teacher recommended Mission Australia's Transition to Work program, based in Dandenong.
Mission Australia's Claire Cook said the Transition to Work program was designed for people between the ages of 15 to 21 struggling to connect with education or employment, and assists them by providing pathways to educational services and employers.
Ghulam's pathway has led him to Hampton Park Secondary College, where he is studying for his VCE.
"I couldn't believe how quickly my luck changed after getting in touch with the Transition to Work program. I knew that I wasn't fulfilling my full potential when I was studying at my English classes. All I really wanted was to be in a classroom with people my own age and make friends that can help me out when I need it," Ghulam said.
"The Transition to Work program helped me organise various meetings and did everything in their power to get me accepted into a high school.
"I couldn't believe it when the news came through that I was going back to school, it was a dream come true and I am truly grateful for the opportunity.
"I was lucky enough to join the other VCE students in the middle of the semester, which means that I have a lot of work to catch up on. I usually finish school around 3.30pm, so I make sure that I get to the library by 4.30pm to see my tutor for catch-up sessions."
Ms Cook said the Mission Australia staff ensured that Ghulam knew he had other options such as VCAL at Tafe, but he insisted he wanted to be in a high school.
"Ghulam has had a tough journey getting to where he is now, so it's great to see him so motivated and focused, and finally reaping the rewards of his hard work.
"Ghulam's story is certainly an amazing one, and he was over the moon when he received the news about his acceptance to Hampton Park Secondary College. It's definitely the best part of my job when we see an outcome like Ghulam's, it's just the best."
The Transitions to Work program also supports growing businesses by presenting a platform where employers are able to take on new staff easily, providing them with professional advice on workforce development, wage subsidies and more.
Transitions to Work is a Department of Education and Training funded initiative.