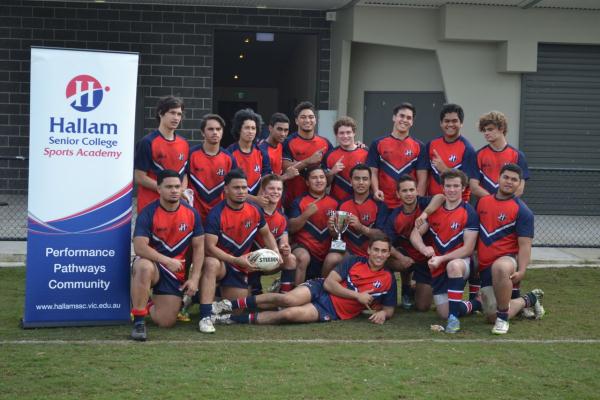 GIO SCHOOLBOY TROPHY
HALLAM Senior College knew there was a significant challenge ahead when it clashed with Victoria University Secondary College in the state final of the GIO Schoolboy Trophy last Wednesday.
The teams had drawn in their two encounters last year – with Hallam claiming the GIO Trophy from an extra time golden point and the next clash the teams couldn't be separated after extra time.
Hallam Senior College got off to a great start with a break away try from a kick return to the very evasive and elusive Oisin Clarken. This try was quickly converted by Keenan Pesamino from the sideline to make it 6-0 very early on in the game.
It was after this that the Hallam forward pack took real control of the game through aggressive runs and defence from Melvin and Paula Fifita and Tokorima Metua. James Brooks was also making easy yards from dummy half and getting his forwards over the advantage line and before they knew it Hallam was leading 16-0.
Hallam ended up working through this tough time period and finished the half with an additional try making it 22-4 at half time.
Producing more tries to seal the game, Hallam stormed home to claim its seventh consecutive GIO Victorian Trophy with a 32-10 victory led by Oisin Clarken, Melvin and Paula Fifita, James Brooks, Ikapote Tupai and Keenan Pesamino.
The college now progresses through to the next stage of the competition – and will play in the NSW/ACT Country Rugby League Southern Gala Day on 24 July in Cootamundra playing the winners of three other southern regions.
Hallam Senior College is extremely proud of its history and involvement in this competition. For more information on Hallam Senior College's rugby league program or other programs in the Sports Academy, visit www.hallamssc.vic.edu.au and follow the links to the Sports Academy. You can also call the school on 9703 1266. Applications for 2015's academy intake are currently open.