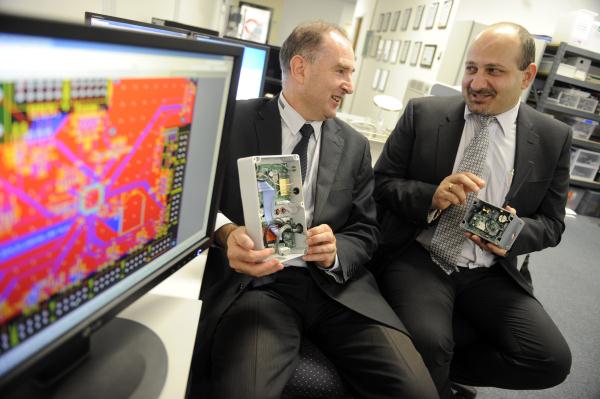 By BRIDGET COOK
TWO Casey businessmen have proved the benefits of networking as they enter into a new business venture together.
Zeidan general manager George Zeidan and Ray Keefe, managing director of Successful Endeavours, met as part of the Casey Cardinia Business Group.
After getting to know each other and learning the ins and outs of each other's business, the two are now working on a collaborative project together which will be launched into the global marketplace.
Mr Keefe said he found it difficult to find a business that had the technical and commercial expertise he needed to help him create IT-based solutions for customers.
He said that was where Zeidan came in because it could provide that service.
"Their focus is on making solutions that do what the customer wants them to do," he said.
"Unfortunately, this is relatively rare within the industry in Australia.
"There are too many IT development companies with limited experience in a wide range of projects.
"That means they have a narrow range of solutions and try to fit the customer's problem to their solution.
"They are on a learning curve at the customer's expense."
Mr Zeidan said collaboration was key and while they both joined the business group with their own businesses in mind, it soon became apparent that a collaborative project would enable them to provide solutions to companies throughout the world.
"Meeting through the Casey Cardinia Business Group and attending the regular events meant we had time to get to know each other," he said.
"There are shared business and personal values and a strong commitment to finding the right solution for customers.
"Both of us enjoy the challenge of breaking new ground with the projects we take on.
"We realised there was an opportunity of doing business together."
The current product devised by the two companies provides a platform that can record data for any kind of physical quantity and they have several intended uses for it in the future.
At the moment, the devices measure the volume of water taken by tankers from stand pipes in Victoria and New South Wales.
It acts as both an access controller and dispensed water logger that can communicate back to a website to record water taken and also get updated access privilege information.
"It is clear that this is the very first of many projects for the two businesses," Mr Zeidan said.
Mr Keefe said they have a shared vision which was realised through this collaboration.
"Together we can find more effective solutions and offer them to a greatly expanded market," he said.
"Small business is the engine room of Australia."
Mr Keefe said networking was a great starting point for such a venture.
"Getting into the room with other people who share the experience of building business in the local community, you come away a bigger person," he said.
"You do need to go with the right mind set of thinking outside of your own business needs.
"You are looking for opportunities to contribute and to develop collaboration with other local businesses."
The Casey Cardinia Business Group provides local businesses with an opportunity to network at networking nights and breakfasts and access to training and promotions.
For further information on the group and how to join visit www.caseycardinia.com.au/index.php/casey-cardinia-business-group.