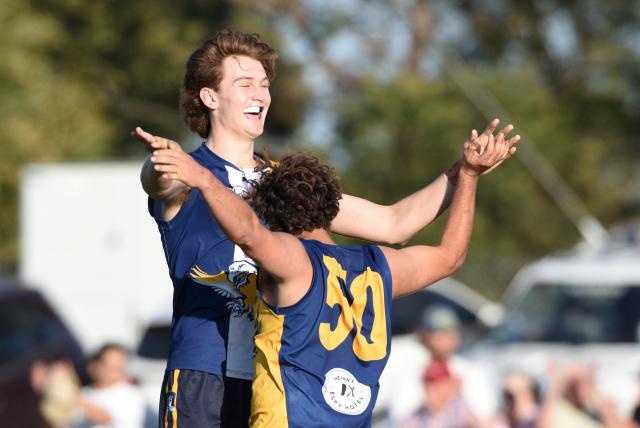 By Jonty Ralphsmith
Everyone involved at Inverloch-Kongwak footy club seems to have a story about Archer Reid
The club is situated right in the middle of town; a town of 7000 people according to 2021 ABS data; fewer than 2000 families.
It's an old style country town bound by sport which knows how success looks.
Footy is the lifeblood.
Everyone knows everyone.
A walk down the main street on a wintry Saturday afternoon is like walking down Swan Street before a Richmond match at the MCG: there are footy colours everywhere.
The president Pete Butcher isn't just the president; he's the family friend who has seen Archer mature.
He can give an appraisal of 'Arch' as a person.
"He's a good young kid who always says g'day to everyone and (the talk) hasn't gone to his head," Butcher said.
"He's still the same Archer Reid who grew up and played footy around Inverloch."
Throughout 2023, he was a regular spectator at Sea Eagles senior games, attending when his own games didn't overlap.
He was also a constant on Tuesday nights, lifting the standards of the senior sessions, and blending in seamlessly with the thirds and under-18s.
His father Craig, who presented Archer with his IK jumper in round three ahead of his senior debut, enjoyed a storied local footy career, winning premierships with seven clubs, including IK's reserves in 2000.
He kicked seven goals that day.
Archer also has brothers; Zach, a tall listed at Essendon, as well as Kyle, to lean on.
One member of the club knows the Reid family through distant observation as much as anything; they're always down at the oval doing individual skills sessions.
After an outstanding first fortnight for Gippsland, Archer played for five different teams across the next two months.
One of those teams was Inverloch-Kongwak's seniors, where he kicked 13 goals in four games, playing in the grand final winning side, persisting in the second half despite a dislocated finger.
"He's a competitor and a winner and that showed when he played against men at the local level," IK coach Tom Hams explained.
"I think his performances stacked up and he's ready to go, he's quite developed for a big guy and he has that mindset to compete."
The chopping and changing of teams early in the season affected his continuity until a game for Vic Country against Vic Metro where his hands inside 50 were like Velcro, showing his glistening upside.
A 203-centimetre talent who was a member of the AFL Academy and played as a bottom-ager for Vic Country, Reid had always been touted as a mobile and marking key forward.
To showcase his versatility, he was played as Gippsland's second ruck after the national championships, averaging 16 hitouts in that time.
Until that point, he'd played only minimally in the ruck, with under-18 coach Chris Terlich preferring him as a defender for much of his junior days.
A 10-goal half for Invy when he was thrown forward at Bass Recreation Reserve changed his career trajectory.
He did that in 2021, as a 16-year-old playing under-18 footy, winning the IKFC best and fairest, too.
"He's matured in his approach to the game in the last two years," Terlich said, having coached him locally and at the Power's South Gippsland satellite summer training hub.
"He's realised he's got a fantastic opportunity ahead of him.
"He really wanted to make it and was doing everything he could to develop"
Reid is projected to get selected in the second round, which would make him the fourth Sea Eagles' junior to reach the highest level and first since Caleb Serong.
"The community is really behind him and hoping he can get selected and as high as possible," Hams said.
It's really exciting for a club like Inverloch to have someone pushing to go to the highest level so we wish him the best on draft night."