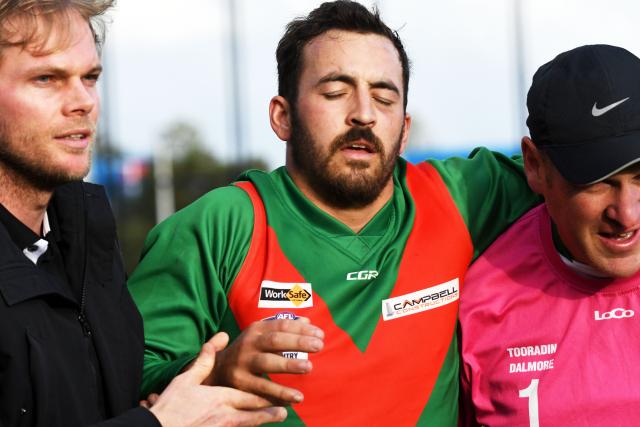 By David Nagel
Wet and greasy conditions are supposed to even up the playing field – but the top-four contenders in West Gippsland football used Saturday's miserable conditions to magnify their authority on the competition this year.
The top-four – Tooradin-Dalmore, Nar Nar Goon, Phillip Island and Inverloch-Kongwak – scored 405 points between them on the weekend, averaging 101 points per team, while the bottom eight teams struggled to hit the scoreboard.
A total of 233 points were scored in four matches, with sides outside the top-four averaging just 29 points per team.
And to rubber-stamp that wet-weather theory, the teams that sit fifth and sixth on the ladder – Bunyip and Warragul Industrials – were the next highest scoring teams in the Dusties 7.4.46 to 5.5.35 victory at Bunyip on Saturday.
Maybe wet-weather football is the thing that really does separate the pretenders from the contenders!
Tooradin-Dalmore kicked the sweep on Saturday – winning 19.22.136 to 2.4.16 over Dalyston.
A seven-goal second quarter was the highlight for the Gulls, who kicked a wasteful 5.13 in the final term!
Brad Butler booted five, and Stewie Scanlon four, while Liam Adams, Piva Wright and Steve Robb were influential figures around the ground.
The Gulls play Garfield this week, before a tougher run of matches will see them hog the headlines against Inverloch-Kongwak, Bunyip, Phillip Island and Nar Nar Goon.
Jack Paravicini held his head high for the Magpies, while midfielders Mick Marotta and Curtis Murfett – and the left foot of Mason Storr – also saw plenty of action.