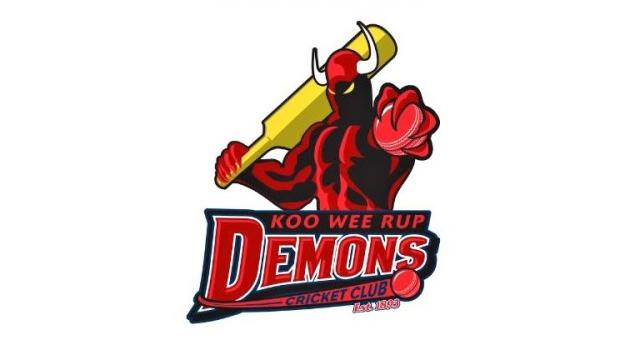 KOOWEERUP OVER 60's
Iona and Kooweerup Over-60's fought out a very important battle on Sunday with 'The Bunyip River Cup' up for grabs at 'Bob's Paddock' in Iona.
The current holders of the cup, Kooweerup, were trying to win it for the fifth time in a row.
Kooweerup skipper Graham Davey won the toss and sent Iona in to bat and this appeared to be a good decision when Iona was 3 for 25 in the ninth over.
Mark McLaughlan was bowled without scoring – second ball by Brett Carey – Barry Cain 4 (21) was brilliantly caught by Ron Wernke off David Leach's bowling and Russell Ferguson 5 (6) was caught behind by Wayne Dozzi, also off Leach.
But it was another 15 overs and 104 runs later before the Demons took their fourth wicket, when Peter Falstead 15 (20) was caught by Ross Farmer off Leach's bowling again.
In the meantime Craig Russell 20 (31), Ron Lovell 40 (31) and Alex Miller 41 (27) had retired.
In the next 13 overs Iona scored at a rate of seven runs per over. Mick Scully 40 (31) and Peter Heywood 25 (27) retired before Alan Coutts 19 (24) was bowled by Graham Davey.
Jim Rowley lasted four balls, making six, before he was LBW to Bob Phillips.
After 40 overs Iona were 6 for 234 with Jeff Phillips 3 (5) and Jon Martindale 11 (11) the not out batters.
All Kooweerup bowlers tried hard in the heat.
David Leach was under-bowled and took 3 for 27 off his five overs. Bob Phillips 8-1/43, Graham Davey 8-1/48, Brett Carey 5-1/28, Dallas Wyatt 6-0/28, Andrew Thomas 2-0/18, Ron Milnes 3-0/17, Ron Wernke2-0/14 and Ross Farmer 1-0/7 also made contributions with the ball.
Needing almost six runs an over to win, Kooweerup started disastrously losing four wickets for 15 runs in four overs.
Two wickets to Peter Heywood – Dallas Wyatt 6 (4) caught by Mark McLaughlan and Andrew Thomas 6 (9) LBW – and two wickets to Jim Rowley – Graham Davey 3 (6) caught by Jeff Phillips and David Leach 0 (3) caught by Alex Miller – had Iona right on top.
A 36-run partnership between Wayne Dozzi and Bob Phillips ended when Dozzi 22 (13) was bowled by Mick Scully.
Steven Nadj made five runs in four balls before he was bowled by Peter Heywood. The score was 7 for 61 when Jeff Ramage – who was playing his first game – was caught by Russell Ferguson off the bowling of Mick Scully for a fifth-ball duck.
Bob Phillips 15 (32) retired before Brett Carey 2 (10) was caught by Alex Miller off the bowling of Ron Lovel.
Ron Milnes 13 (24) retired hurt. The ball after Ron Wernke 40 (50) retired saw John Moore bowled by Mark McLaughlan for a golden duck. The score was 10 for 129 in the 34th over when Russell Ferguson caught Ross Farmer 3 (14) off the bowling of Peter Heywood.
Iona Bowling: Peter Heywood 7.4-4/21 runs was the clear pick of the bowlers. Other contributions came from Jim Rowley 3-2/13, Mick Scully 6-2/13, Ron Lovel 4-1/17, Mark McLaughlan 5-1/17, Craig Russell 5-0/16, Peter Falstead 2-0/8 and Jon Martindale 1-0/11.
The much superior team, Iona, won by 105 runs and are now responsible for keeping the "Bunyip River Cup" polished and ready for the next encounter.
Next week Kooweerup is at home to The Australian Cricket Society.
-John Moore-