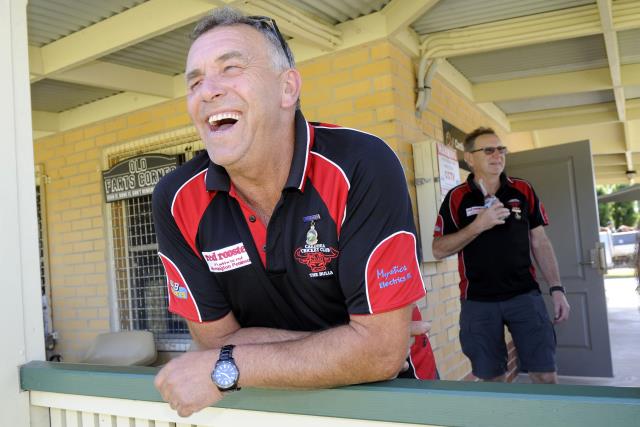 By David Nagel
Grown men shed tears as the Cardinia Cricket Club bared its soul on Saturday as it honoured one of its greatest characters and best-ever cricketers – feared fast-bowler and club legend Wayne Snooks.
Snooks, who passed away suddenly on 6 March last year, will never be forgotten at the Bulls' home ground at Gunton Oval after the club bestowed on him a magnificent honour – naming its new training nets 'The Wayne Snooks Training Facility'.
A large crowd consisting of life members, current and past players, committee, friends, and most importantly family, gathered late on Saturday morning to pay respects to a much-loved club champion at the official opening of the new nets.
Fellow speedster and brother-in-law Ben Sargent, and life member and life-long friend David Webster told of their love for a man who was about to play in his 48th season for the club on the day of his death.
A life member, he was inducted into three teams of the decade, and the 'Team of the 50 years' at the Bulls' 50th anniversary gala event in 2019.
One of the greatest Bulls of them all, he won a host of individual honours – including the 1991/92 A Grade league bowling average after recovering from a horrendous accident that saw him lose sight in one eye.
As a sign of his remarkable longevity, he won Bulls bowling awards in '77/78 and again, 16 years later, in '93/'94.
Webster said the naming of the new facility was a special and significant day for the club.
"It's a big day because this particular fella was a massive part of the club," Webster explained.
"He's the only player to have played across five decades and he's been named in the Team of the Decade on three occasions, and then of course he was picked in the Team of the Half Century.
"More to that, he was the sort of fella that would help out anyone, and the reason the nets have been named after Snooksy is because every training night he would be down there helping the kids.
"I look at the kids out there playing in our firsts and there's not one of them that Snooksy hasn't helped out in some way."
Webster remembers clearly the first day of a long and much-loved friendship.
"I remember driving home from work and my father said, 'I've just to call into this house down on the corner here, there's a young bloke who has moved in who is looking for work and I believe he's a bit of a sportsman, so I want to get him down to play footy and cricket at the club." Webster recalled.
"It just snowballed from there and Snooksy became part of our family, not only of our family at the club, but my family at home as well.
"We were always at each other's place and he became like another son to my mum and dad.
"Our friendship just grew and grew and grew and along with Trevor Hobson we became the three musketeers…that type of thing. We enjoyed so much time together, just having a chat and enjoying each other's company."
Webster also recalled an incident that gave Snooks plenty of fodder to hang on his great mate over the years.
"My biggest disappointment, and one that Wayne never let me forget about, was that as captain I declared when he was on 86, so we could go for an outright," Webster said.
"He never, ever let me forget it, and rightly so.
"When he made his first hundred, 120 up at Narre Warren East, I went up and he gave me the biggest hug and said 'Righto, you're off the hook'.
"He went on and made another ton as well so I didn't feel quite as bad after that."
Webster said Snooks was a bowler of the highest quality, ruthless and relentless in the search of wickets, but was well-respected by the entire cricket community.
"I've never known a bowler who could move the ball like he did," Webster explained.
"The ball could be 30 or 40 overs old and he would move it like it was a new one. And he was so determined; everything that he did had to be done right.
"He had few nick names and one of them was hungry, because it was hard to get the ball out of his hands.
"But in reality, no one wanted to get the ball out of Snooksy's hand because he was such a good bowler and none of us could have done better.
"After his horrific accident, to come back and win the A Grade bowling average was just incredible."
Snooks was helping to remove a stump from his place in Nar Nar Goon, when the chain snapped, wrapped around his face…leading to a lost eye.
"He was such an amazing man to come back from that, in a short time really, he was so determined," Webster said.
"I remember when he got up and got his award at Devon Meadows, everyone in that room was up and clapping and that's the respect he had throughout the whole league. Mention Snooksy's name…he's a legend around these parts."
And how would Webster describe his great mate as a person, from the feared competitor to the man he shared many great times with?
"Get him out on the ground and put a ball in his hand and he only had one option, and that was to get you out, it didn't matter how he did it, he got you out," Webster said.
"But you get him off the ground, he was just an amazing man who cared about our club and the opposition.
"Say if he got a young kid out, after the game he would talk to that kid and tell him what he did wrong. He even did it during games, helping kids out, and kids prosper in that environment.
"He was fiercely competitive but also wanted to see kids grow and wanted to see the game grow…he was a ripper like that."
Webster thinks Snooks will be sitting back and quite content with Cardinia's magnificent gesture.
"I reckon he would be saying, yep, that's about right, and you know what, it is right, he had the respect of everyone and there will never be another Snooksy, we were very lucky to have him.
"Everyone just loved him."
The Cardinia Cricket Club has honoured Wayne Snooks with a tribute in words, which sit on a large banner on the side of the nets. The words read:
WAYNER MARTIN CHARLES SNOOKS
1957-2021
Wayne Snooks, the only player to play at Cardinia in every decade.
Such a dedicated man to the club he truly adored. Cardinia cricket Club was 'Snooksy's' second home.
The passion he showed playing transitioned into the passion he showed educating and developing young players just like himself.
On the 6th of March 2021, the day of his passing, he was due to play which would have marked 48 seasons straight with the desire of achieving 50 years.
At the Cardinia Cricket Club, and at the Wayne Snooks Training Facility, 'Snooksy's' legacy lives on.