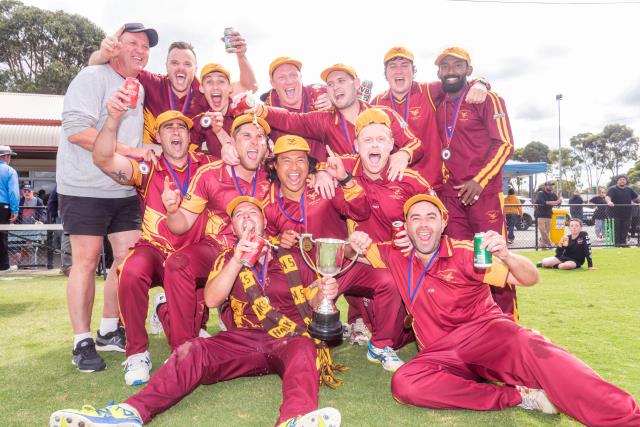 By Nick Creely and David Nagel
2021 SPORT REVIEW – CRICKET
Hallam Kalora Park brushed aside the disappointment of recent years securing its first DDCA Turf 1 premiership since 2001/02 – a 20-year period not lost on the many loyal Hallam people who were in full voice all the way through a thrilling grand final against Berwick.
But the premiership cup could legitimately have gone into the hands of Berwick skipper Matthew Chasemore if not for a few brief little moments, and that is ultimately how tightly-fought and fierce the clash was.
It was utterly absorbing.
Every single ball, wicket, and run seemingly had implications.
It was a grand final truly befitting its title. The momentum swung so rapidly, and so intensely that it was almost hard to keep up.
The Hawks batted first, with opener Ben Hillard gritting out one of the more important half-centuries of his career, compiling 54 to help his side post a tricky 7/151.
Man of the match Steven Gilmour's 30 in the context of the game was clutch – he turned the strike over beautifully late in the piece and held the Bears at bay when it looked like they were going in for the kill.
The Bears looked buried in reply, falling to 7/84 after a superb bowling performance from the Hawks quicks – particularly Will Whyte and Steve Gilmour – but James Wilcock (34) and Brendan Rose (33) almost got Chasemore's side home, before Kevin Kean's catch put the Hawks back on the top of the Turf 1 tree with just seven runs separating the two sides.
There was a sense of euphoria for Hallam Kalora Park captain Jordan Hammond in the aftermath of an incredible premiership victory.
It was the club's first Turf 1 flag since 2001/02, where Jordan's father John was the skipper in that premiership glory, ending a drought spanning almost 20 years in emotional scenes at Frawley Road.
Jordan's uncle Richard, a club great coached the side this season too.
"It's unbelievable, its personally one of the best feelings I've ever had in sport," he told Star News.
"Apart from last year playing with Casey, I've been playing with these boys for about eight or nine senior seasons, the same group of blokes, so it's been a long time coming.
"There's three or four that I've played cricket with for 15 years, from being juniors, Ryan Hillard, Ben Hillard, Rob Parker and even guys like Jagveer Hayer who left at the start of the year, Leigh Booth, Lee Brown, it's unbelievable.
"That's why I play cricket, to be with my mates – I don't play to get money or for shits and giggles, I play to win and for my mates, and that's the reason why the other 10 blokes play.
"We've fallen short a few times, but every year we've just gotten better – finally this year we went this step further, I honestly can't believe it."
The prestigious Alan Wookey Medal for champion Turf 1 player went to none other than Ruwantha Kellepotha, who compiled a season almost needed to be seen to be believed.
The Berwick star leggie – who has now moved on to Premier Cricket with Casey-South Melbourne – belted 375 runs at 37.5 for the season, and took an astonishing 43 wickets at 11.9.
In Turf 2, the Gartside Medal went to Dandenong West all-rounder Gurpreet Singh, who put together a season featuring 233 runs at 21.2 and 26 wickets at 12.7.
Narre Warren (4/94) saluted with the Turf 2 premiership, defeating Dandenong West (92) in a dominant performance. Quick Josh Dinger was the star of the day, snaring incredible figures of 6/21.
Cardinia's home-ground fortress at Gunton Oval was rocking long into the night after the Bulls secured an emotional 28-run victory over Kooweerup in the 2020/21 West Gippsland Cricket Association (WGCA) Premier Division grand final.
The Bulls compiled a moderate 9/111 from their compulsory 40 overs – an innings which included just two sixes and no fours – before a relentless bowling performance saw the home side secure its first top-flight premiership success since 2008/09.
The victory was the high-point of an emotive period for the Bulls, with the passing of stalwarts Ian Campbell and Wayne Snooks leaving an indelible mark on the club.
"I'm all over the place right now, out of control, it's overwhelming and there are tears everywhere," said a reflective Ricky Campbell – Ian's son – after playing his part in the Bulls' success.
"This year was all about keeping my place in the team and doing this for Snooksy and the old man.
"We've done it now and I can't believe it. I'm so proud of the club, so proud of our team, and so proud that we could pull this off for those two blokes in particular."
The Bulls victory was chock-full of merit, defeating a Kooweerup side that has won an astonishing seven premierships in the last 11 years.
Premiership captain Jake Prosser said he was still confident, even with the Demons seemingly in command at 2/50 from 15 overs in reply.
"We like to build pressure on our home ground and teams crack and that's been the story for most games this year," Prosser said.
"We don't give away singles and we try to bowl maidens, it's a simple game plan. The ground is slow and teams get frustrated and they eventually make mistakes. It's a massive advantage playing here…we've been undefeated here all year."
Up-and-coming Bull Travis Wheller secure the Lex Duff Medal, courtesy of a game-changing spell of 3/24, which included the key wickets of Kooweerup guns Chris O'Hara and Jess Mathers in the space of three balls.
The premiership capped off a memorable season for one Bull in particular, with superstar spinner Dwayne Doig claiming the 600th wicket of an astonishing career, earlier in the season against Pakenham.
Cardinia captain Jake Prosser won the Premier Division Player of the Year Award, with Lucas Carroll (Devon Meadows – District), Gavin Hackett (Nyora- Sub District), David MacDonald (Emerald – B Grade), Scott Kunziak (Merinda Park – C Grade), Jaxon Burdette (Emerald) and Nadun Alwis (NNG/Maryknoll – D Grade), Nicholas Whitelaw (Officer – E Grade) and Shannon Allum (Clyde – F Grade) also taking top honours in their particular grades of competition.
And Kooweerup champion Jess Mathers gave us all an insight into his recent battles after being diagnosed with testicular cancer early in 2020. The Demons' superstar bravely told his story in the hope it would help men take better care of their health and to listen to their bodies.