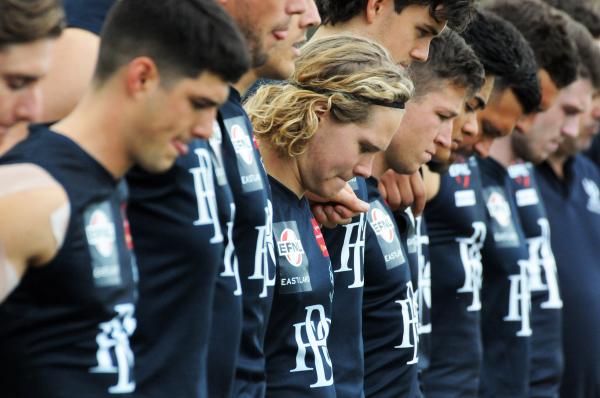 By David Nagel
A new and exciting challenge is getting more and more difficult for the Berwick Football Club as injuries to key players threaten to derail an exciting first week in the Eastern Football League Premier Division.
The Wickers, who were the talk of the town after a close loss to Noble Park in round one, have been decimated by injuries to key players as they look to remain competitive against some of the best community football talent in Victoria.
Coach Clint Evans was forced to make six changes ahead of Saturday's trip to Rowville, which began horribly, with the Hawks hitting the ground running after a round-one bye.
Rowville kicked 7.3 to 2.0 in a first-quarter onslaught that set up a 60-point win, the final scores 17.16 (118) to 9.4 (58).
Evans praised his opposition for their power and skill, but said it was frustrating his side is not getting an opportunity to show its full wares.
"They were too big and too strong and played really well, especially early, and we're not the sort of club that is going to make excuses," Evans said.
"The simple fact is we've got some very good players out at the moment, but we'll pick up our bottom lip and move on. There's no point or benefit in sooking about it, there's still a good vibe around the place and we need to work a bit harder."
Evans admits that he has never been cut this deep with injury in a coaching career highlighted by a 2014 premiership win with Beaconsfield.
The injury list is long and full of quality.
Key midfielders Bryce Rutherford (ankle) and Bailey Asher (hamstring) are yet to kick a ball in anger in 2021, while half backs Riley Heddles (concussion), Jo West (hamstring) and Nick Hillard (hamstring) were missing from the round one team against the Bulls.
Will Arthurson (Frankston) was missing due to VFL duties on the weekend, while gun midfielder Travis Tuck (soreness) and forward Anthony Burr (illness) were also missing from the season opener.
The Wickers injury woes were compounded on the weekend with skipper Luke Sheppard suffering what could be a season-ending achilles injury.
"We had nearly a handful of debutants on Saturday and I was pretty impressed that we didn't let the margin blow out to more than 10 goals," Evans said of his side's slow start.
"Every game we get into these kids is going to be a massive positive for this club moving forward. That's the positive we can take away from the situation we are in and that's how we need to approach it.
"From a competitor's point of view, having eight of your senior core missing is frustrating because Saturday could have been a totally different story. We just have to hang tough until the cavalry arrives."
Evans praised the efforts of defenders Jayden Graham and Michael Riseley, and Tim Gunn, who made the most of limited opportunities to kick four goals. Madi Andrews and Tom Brennan were others to shows character after their team's uncharacteristic slow start.
The Wickers are on the road again this week, with a trip to Balwyn, before a home clash against North Ringwood, then a bye.
Meanwhile, Berwick's women's team is rolling along nicely after making it a perfect two from two with a 6.0 (36) to 3.2 (20) victory over Rowville.
Courtney De Kroon was outstanding for the Wickers with three goals, while Jade Smith, Jess Szalek and Logan O'Connell-Webb were others to impress with their four-quarter efforts.