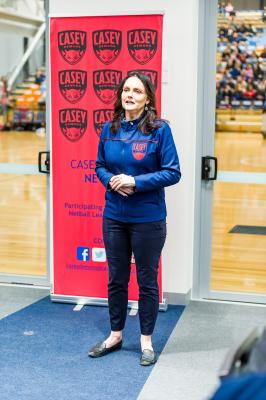 By David Nagel
Casey Stadium will be the heartbeat of Victorian netball on Saturday night when the Casey Demons kick-start their 2021 Victorian Netball League (VNL) Championship campaign against Peninsula.
The standalone clash between the Demons and Waves brings to an end a 93-week drought of VNL action at Casey, with the Demons last hosting on July 10, 2019, against the Southern Saints.
The Demons won that contest and forged ahead in their first season in the VNL, eventually losing out to Geelong Cougars in the grand final.
Head coach Robynn Pym said there is genuine excitement, from within the group, as the team looks to build on the fantastic achievements of year one.
"There's a nervous energy and a real excitement about the place at the moment, and I think everyone, the players, coaches and support staff, can't wait to get back on court and start playing competitive matches again," Pym said.
"And being a standalone match means we will have all eyes on Casey which is really exciting for the club."
The Demons received their first VNL licence in September 2018 and had to hit the ground running in preparing a team, with most opposition lists already locked and loaded.
"It all happened so quickly that we had to bite the bullet and pretty much build a side from scratch, from local kids, and it was tough, but it was great exposure for the region," Pym said.
The Demons won four of their first 11 games before finding their feet with six consecutive victories ahead of a final-round loss to Geelong. That was a forerunner of things to come, with the club experiencing the joy of two semi-final victories before a 55-69 loss to the Cougars in the grand final.
"Physically we got smashed in the early part of the season but we found the right formula and familiarised ourselves with things like match ups and the intensity required to play at the level," Pym said.
"Geelong was a great team, they had played finals the previous two years and been building, and that's something we will be looking to emulate this year. We know what it's all about now and we're confident our brand and culture will stand up."
On paper, the Demons have recruited well with some class players set to join the cast of 2019 which included goaler Emma Ryde, defenders Karli Foster and Demi Woodlock and midcourter Shannon Blackman, who overcame an early-season back injury to be a driving force in the Demons charge to the grand final.
Melbourne Vixens 2020 squad member Tayla Honey will stiffen up an already strong midcourt brigade, while her former state-teammate Sharni Lambden is all class and will be looking for continuity, consistency and confidence after enjoying her first injury-free pre-season for quite some time.
Midcourter Emma Thompson will be keen to impress after a season in New Zealand, while Vixens training partner Sacha McDonald will pull on familiar family colours with her brother Tom a star for the Melbourne Demons.
Georgia Vines and Julia Smith, who grew up playing together on the Mornington Peninsula, will add great depth to a very strong defensive unit.
Despite the impact of Covid-19, Pym said her coaching staff had not really had a break since the club's inception.
"We haven't stopped since we started selecting the squad for our first pre-season in 2018," she said.
"Obviously we made it through to the grand final in the championships, then we built for the season that never was last year and we've been on that path ever since."
And Pym said she was proud of her playing group that had stayed strong through the challenging times of Covid-19.
"The girls have shown some true grit and have hung in there when it would have been easier to drop their commitment level," Pym said.
On top of all that, a new-look pathway competition will replace the Australian Netball (ANL) League in 2021, with the Australian Netball Championships (ANC) set to take place towards the end of the year.
The Demons' championship coach said the introduction and timing of the ANC had also provided its challenges.
"Effectively it means that there are roughly 15 to 18 players that have been released from Vixens and Collingwood that are now back playing in the VNL championships," Pym said.
"It means we have some elite athletes, who have been in full-scale training, combining with girls who haven't been playing at all, so does create its challenges.
"And some girls will feel that opportunities have been taken away, but I don't see it that way. I think the development aspect of division one will be perfect for the girls and eventually keep them in the game even longer."
Pym said expectations were obviously high after a stellar inaugural season.
"We don't play not to be in finals so that is definitely our starting point," she said.
"But the reality right now, as boring as it sounds, is that we just go out and play and see how we go. There are so many unknowns this year, a lot of ins and outs, so we will just play our Demons' brand of netball and see where that takes us."
The Demons enjoyed incredible support in 2019 and are keen to embrace the local community once again this time around.
"The amount of community support we had was one of the real highlights of 2019," Pym said.
"We had great attendance right throughout the season, the best Netball Victoria has seen, and that's something we're very keen to build on again this year.
"Our president Bek Bogos has done a fantastic job with our community initiatives. We had a great first year in that respect and in 2021 I'm extremely confident we will take the next step."
The VNL championship clash is the middle peg in an exciting night of netball action on Saturday. The 19-under team will kick things off 6.30pm, followed by the championship game at 8.20pm, before the division one Demons take to the court at 9.40pm.
The Casey Demons are also joining forces with the Cranbourne RSL and will host an Anzac ceremony at 7.45pm.