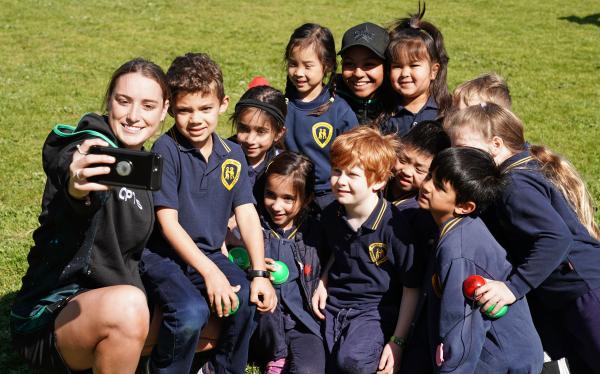 By Nick Creely
Nicole Faltum is very much a star on the rise in Australian cricket.
She is a natural leader, has a mature head on her shoulders, and possesses talents on the cricket field that will see her continue to make a name for herself.
And she wants to inspire the next generation of talented female cricketers coming through the ranks – to motivate youngsters to stay persistent, work hard, make the most of the Victorian cricket pathways, but more importantly to have fun.
This season, the emerging Victorian and Melbourne Stars player is set to be the female cricket ambassador for the West Gippsland Cricket Association in what is a huge boost for the region as it looks to continue building its female cricket participation.
Faltum said that the opportunity to be an ambassador is a chance to give back to the West Gippsland community, and help encourage budding female cricketers to give it a go and to make the most of opportunities that are now possible.
"Just for someone to say i'm an ambassador and be in a role where I can influence and encourage young girls to play cricket is so incredible," she said.
"To be in that position and if I can get five more girls to play, I think that's a huge honour, and something I'm super proud of."
Faltum said that the key to cricket is to most importantly have fun, even at the elite level, and to make the most of opportunities that now present all cricketers across the country.
"My biggest thing to start with is just to play for the pure enjoyment and fun element of it – I feel like when you do get higher and sometimes things aren't going as well, the only thing you can really bank on is that you still love it, and that it's still fun," she said.
"Just getting them to enjoy it so much is my biggest thing, and for them think that's it so great that girls can come together and play cricket, and have so much fun.
"And trusting in the pathways is so important, but you don't really need to think about it, it's there, and if you want to take that path you can trust those processes.
"Now you have the and ability and opportunities now to really pursue something if you love it so much."
But even with so much development still left in her, she said it's an honour to be able to be a role model for the emerging female cricketers, not only in the south-east and Gippsland, but across the country.
"It's quite funny, especially being 20, I still learn off the higher people above me – I've learnt so much from the likes of Kristen Beams and Elyse Villani for example from the Stars last year, especially Elyse this year," she said.
"I'm still getting to learn off the people at the top, and I'm filtering it down, so I'm privileged to be able to learn myself and pass my knowledge on to others."
The 20-year-old wicketkeeper bat is originally from Moe and played her cricket in Central Gippsland but has strong connections with the Cardinia Shire and the WGCA, especially the Kooweerup Cricket Club.
"My partner Mitch played with Koowee growing up, and his dad Matt Davey, so I had a connection with the cricket club, and I coached the under 12 girls two seasons ago," she said.
"It was a role I absolutely loved and if I can be involved in any way, shape or form then that's great, and I'll love it."
Faltum plays her Premier Cricket with Dandenong where she will be the Panthers' skipper this season with the club holding the leader in extremely high regard both on-field and off-field.
"Coming from Dandenong Women's Cricket Club to then becoming just Dandenong, about three seasons ago, coming together and having a real club feel is awesome," she said of the club's culture.
"To have such commedarie between the two teams is so incredible – us girls are so thankful to be able to share facilities, Shepley Oval is such an incredible ground to play at, so it's been really great to have that extra support."
After going through quarantine ahead of the WBBL kicking off this weekend in Sydney in the Covid bubble, Faltum is now ready to sink her teeth into what is set to be another massive tournament.
"Going through everything, and being a Melbourne team and having to quarantine, everyone is so grateful that we get to be here and play," she said.
"Everyone's excited, we've come together with our overseas and interstate players, as well as the Victorians, and come together as one, the coach and all that too."
And ahead of the Stars' season opener against the Melbourne Renegades on Sunday, Faltum said that there is always an extra layer of motivation against their cross-town rivals – regardless of where the game is being played.
"It always has that element (of added motivation) to it, no matter where you play in these games," she said.
"It's a funny one, there's a lot of Victorians playing against one another, and they're actually your best mates.
"It's odd in some ways, and it's one of the hardest ones to play because you've got that strong relationship, but you sort of have to turn into that competitive beast.
"Everyone's so excited, and we obviously just want to win."