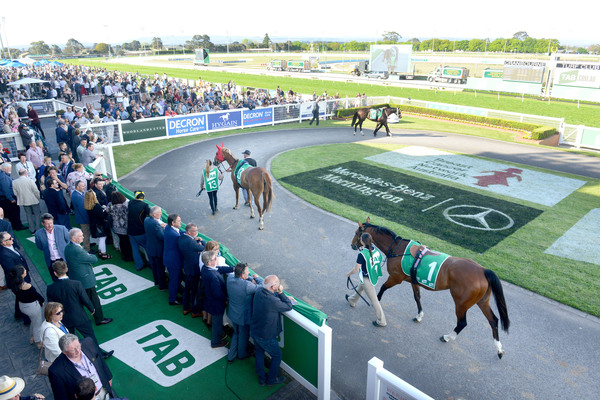 By sports editor Russell Bennett
A confirmed Covid-19 case linked to a Cranbourne trainer led to a number of runners being pulled from Saturday's racing at Moonee Valley.
Racing Victoria subsequently organised for testing to take place at the Cranbourne Turf Club for all impacted participants, and has since been advised that the 88 Covid-19 tests conducted all returned a negative result.
Racing still continued at Moonee Valley on Saturday until the worsening track conditions – caused by the wet weather – brought about the abandonment of the meet after the fifth race on the card.
Earlier in the day, Racing Victoria confirmed it was advised late on Friday by Cranbourne trainer Richard Laming that a staff member from his stable had tested positive for the coronavirus.
Laming had only one starter in the preceding nine days, which was at Sandown last Wednesday. The staff member in question wasn't attendance on that day.
Since being notified of the positive case, Racing Victoria immediately started contact tracing to determine whether or not any other stables or industry participants outside the Laming stable may have been exposed to the staff member or designated close contacts.
Stemming from that, Racing Victoria stewards – acting on the advice of Racing Victoria's chief medical officer (CMO) – placed the following stables into lockdown:
Richard Laming
Trent Busuttin and Natalie Young
Wendy Kelly
Nathan Dunn
Michael Trotter
Adrian McGregor
Tom Nikolic
The Laming, Kelly, and Busuttin and Young stables therefore withdrew their runners from The Valley on Saturday, with the latter also withdrawing their runners from the meeting at Wangaratta to make sure no staff from those stables were in attendance.
In addition, licensed jockeys Alexandra Bryan, Michael Walker, and Jason Benbow – who all rode track work for the Laming stable throughout the week – were stood down from riding, pending Covid-19 testing and subsequent clearance from the stewards and CMO. Walker and Bryan were removed from their rides at The Valley and Wangaratta on Saturday.
But as a result of the negative tests, the lockdown on the seven Cranbourne stables has since been lifted – meaning they're permitted to resume normal activities, provided any staff identified as close contacts and ordered to isolate by the DHHS do not resume duties.
Dunn and Trotter were cleared to start their horses in Ballarat and Moe, respectively, on Sunday; while the Kelly, and Busuttin and Young stables withdrew their horses from Moe prior to Sunday morning's scratching deadline.
Bryan, Walker, and Benbow were all cleared to resume riding, with Bryan and Walker racing at Moe on Sunday.
In accordance with government directives, the staff member from the Laming stable who tested positive for Covid-19 on Friday was ordered to quarantine for a minimum mandatory 14 days, and will not be allowed to resume duties until cleared to do so by the DHHS, stewards, and Racing Victoria's CMO.
In addition, eight stable staff identified as close contacts – all of whom tested negative on Saturday – were also required by the DHHS to isolate, complete 14 days of quarantine, and undergo a second Covid-19 test.
Following deep cleaning of the stables and tie-up stalls over the weekend, the Cranbourne Training Centre will reopen for training on Monday morning.
In a statement on Sunday afternoon, Racing Victoria chief executive Giles Thompson said: "It's both pleasing and comforting to know that all the tests taken yesterday have been returned as negative. This underlines the importance and benefit of the strict biosecurity protocols that we have had in place since mid-March to allow for the safe conduct of over 1800 races here in Victoria.
"I want to thank all of the impacted stables and their staff for their swift actions since Friday night and their willingness to make important sacrifices for the benefit of the industry during that period.
"I also want to extend the best wishes of all within the industry to the stablehand that has tested positive to the virus. Our welfare staff are engaged with the individual and will continue to support them throughout the coming weeks.
"This incident should serve as a timely reminder to all within our industry of the critical importance of following both government directives and our industry biosecurity protocols to ensure the safe continuation of training and racing in Victoria.
"I once again implore everyone in our industry to continue doing the right thing. If you or someone in your household is feeling unwell, don't go to work. Make sure you reach out and tell your boss and Racing Victoria and get yourself tested at the earliest opportunity. Anyone who fails to do so immediately is putting the entire industry at risk and will face significant penalties."