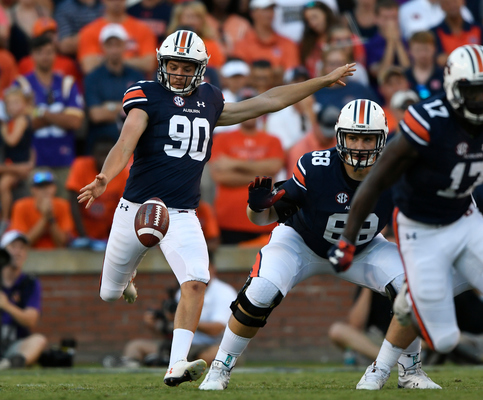 By sports editor Russell Bennett
Arryn Siposs was still in his early 20s when he was delisted by St Kilda, and now he's about to start a whole new chapter of his professional sporting career – with the Detroit Lions in the NFL.
In 2015, the Hallam and Beaconsfield product had played 28 games since making his AFL debut in 2011, and the last thing he wanted to do was give up on his dream of forging a lasting professional football career.
Little did the former Dandenong Stingray know the opportunities that would await him in a different football code entirely.
Long known for his booming kick, Siposs now has the chance of a lifetime in the NFL after an eye-catching punting stint at US collegiate powerhouse, the Auburn Tigers.
He made international headlines last November after a stunning play in the 'Iron Bowl' against Alabama, which netted the Tigers a stunning 48-45 win – one of the most famous triumphs in the history of their illustrious program.
Siposs, who was still in Auburn as the NFL draft was held, explained the incredible turn of events that led to him and Tigers quarterback Bo Nix embracing in the middle of the stadium following the heart-stopping win.
"It was something we practiced going into the game," he said.
"Alabama had a really good punt and kick-off returner so we had to come up with a plan to keep him off the field.
"Our plan originally was for me to line up in the wide receiver position and then swap with the quarterback (Nix) and then get the ball snapped to me and I would punt it.
"We hoped that Alabama's defence would be on the field and their returner wouldn't be. In the end, we confused them and they had 12 players on the field, which resulted in us keeping the football and winning the game."
It also led to a famous post-match outburst from Nick Saban – one of the biggest name coaches in US football history – and caused headlines right across the world.
It's a far cry from Siposs' VFL stint with Williamstown when he was searching for a way back into the AFL.
"After my time was finished at St Kilda, I still thought I could play in the AFL," he said.
"I was 22 at the time and wanted to get back into the AFL, so I signed with Williamstown. I thought this would give me the best opportunity to get back in.
"I was in my second year there but I saw how well other guys were going (punting) in the college system in America and thought I could do the same thing, so I contacted (Australian former NFL punter) Nathan Chapman at Prokick and went down for a training session. He told me I could do it, and maybe even get to the NFL."
Siposs ultimately declared for this year's draft still with a season of eligibility left at Auburn. While he ultimately went undrafted, his decision reaped serious rewards as he signed with the Lions soon after – with a chance to compete for their starting punting spot.
For him, the time to make his new dream a reality is now.
"I didn't expect this to happen in my wildest dreams," Siposs admitted.
"It has been an amazing journey so far and it really is just the beginning of it.
"I just wanted to play AFL for 10 to 12 years and have a great career doing that, but that didn't work out, so having the opportunity to do this is amazing and hopefully I can have decent career in the NFL."
After playing in front of sparse crowds for St Kilda against the likes of the Gold Coast in the cavernous Marvel Stadium during his AFL days, and then getting back to a real community footy feel at the VFL, Siposs has regularly stepped on to the field in front of more than 90,000 people so far in his US football odyssey.
"It has been an awesome experience to be able to do that," he said.
"I am very lucky to be able to go out each and every week and play in front 90,000. It is something I will never forget."
But when Siposs first introduced himself at Prokick, he knew next to nothing about college football and everything it entails.
"I didn't really know much about college football if I'm honest, but Chappy said I had the capabilities of playing at a top 10 school," Siposs explained.
"I had been training for a few months at Prokick and Chappy had been speaking to Auburn because they were in need of a punter."
From there, Siposs sent footage of himself in action to the coaches at Auburn, which led to a scholarship offer and the start of a whole new chapter.
"Participating in the biggest rivalry in college football is something I will never forget," he said of the Iron Bowl.
"The rivalry is real – these teams hate each other – and it's a huge occasion if you win that game. The 2019 game was incredible, it is honestly the best game I have played in and something I will never forget. "
Siposs paid tribute to his Auburn team mates and everything he learnt from them in his time with the Tigers, and also spoke about just how much of an impact Chapman has had on his new career to this point.
"He's been the biggest influence on my punting career so far," Siposs said.
"He knows his stuff and he will always be the guy I turn to for advice to improve my game."
And Siposs has also been in contact with a number of other Australian punters – some hopeful of making it to the NFL, and others already on the biggest stage – to sound out their advice.
"I speak to a few guys including (Bunyip product and former Gippsland Power player) Dane Roy to see how they are all going at their college, and since declaring for the draft I've reached out to Michael Dickson (the Seattle Seahawks' Aussie punter), Mitch Wishnowsky (San Francisco 49ers), Jordan Berry (Pittsburgh Steelers) and Cameron Johnston (Philadelphia Eagles) just for some advice on what the process is like, and what to expect.
"This has helped me out so much, and I feel prepared for what comes next."
And what comes next will be Siposs' most exciting chapter of all. He knows the pressure of executing in big moments in front of monster crowds – now he wants the chance to show how he can shine on the biggest stage of them all.