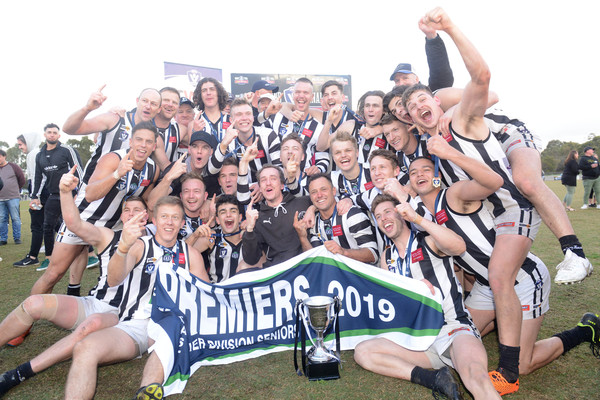 By sports editor Russell Bennett
AFL Outer East is ruling nothing out when it comes to what a condensed 2020 season could look like should football and netball return later this year.
Operationally, those including region general manager Aaron Bailey aren't afraid to look outside the square if it means devising a plan that could see a return to the field and the court this year.
And they're working with their clubs every step of the way.
For now, of course, there are much more pressing issues at play than the bounce of a ball as the world continues to come to grips with the Covid-19 pandemic.
Bailey was also quick to emphasise that the health and wellbeing of the people involved in the AFL Outer East community are priority number one.
But the possibility remains that Australia's favourite winter sports will return at some stage in 2020, and those at AFL Outer East head office are making sure they're prepared in case that eventuates.
The Star News understands a discussion document has been drafted and sent out to all AFL Outer East clubs, with their responses due on 14 April.
In the document, AFL Outer East outlines a range of proposed structures for just what 2020 may look like.
Clearly, a return to play this year is anything but guaranteed, given the great unknown surrounding Covid-19.
But make no mistake – if AFL Outer East football and netball can return in a safe environment, it will.
It's understood the mental health benefits for locals in clubland are a significant motivating factor behind the AFL Outer East's detailed plan.
The competition has the ability to trade through 2020 without a season – given its strong financial position – meaning money won't be a driving factor in the decision-making process.
That said, if a return to play does eventuate, it will only be in the case of each Outer East club's financial viability.
The Star News understands that if the green light for resumption was given for 1 June, an AFL Outer East season could start on 20 or 27 June – giving the clubs three to four weeks to prepare.
There could then be five weeks available all the way up until the end of October to push the season back, if required – given the cricket-free venues available at Healesville, Beaconsfield, Alexandra, and Outer East's Kilsyth home base.
The preference is still to finish in September, but the aim is to have eight to 10-round seasons for each division – allowing for an even amount of home and away games.
It's believed the Outer East season could potentially start as late as 1 August, if it comes to that.
Nothing is being ruled out at this stage – even the possibility of an AFL-style 16-minute plus time-on system for each quarter of footy played, in case of a drastically-reduced pre-season. There could even be a round-robin system for pre-season games the week before the season's potential start – using venues with multiple grounds and courts.
Financially, there's a significant push to lower operating costs for clubs – including the potential decrease in affiliation fees and salary caps.
It's understood that a significant reduction in competition salary caps is part of the proposal, which mirrors the messaging at a statewide level.
Significantly, two different options have been proposed for the structure of the 2020 Outer East season – should it begin.
The first uses the current divisional model, with each club playing its divisional opponents once. The fixtures would provide an even number of games, with local derbies used for the extra games to balance out the calendar.
Under this model the season could start as late as 1 August, with the fixture subject to club consultation.
But the second proposed option is more out of left field.
It would involve Outer East clubs being split into conferences and this concept would almost certainly create added interest – given the local derbies and cut down in travel between clubs.
If crowd restrictions of, say, 500 people remain, there is a proposal to have football and netball played at alternate venues, but this concept would provide a home and away fixture and a full slate of premiers throughout the grades.
An intriguing by-product would be the development of the 2021 Premier division – based off the 2020 results.
There'd be a three-week, top four finals series with finals held in conferences, allowing for a wide range of clubs to host finals games.
The 'home final' concept – common in local cricket – would come into play in this model, with clubs with venues not suited to senior finals given the option of hosting women's and veterans competition finals instead.
The conference model in 'Option B' is fascinating, and is based on travel, local rivalries, previous years' performances, netball, the under-18s, junior netball, the state of the player transfer market, and a balance of venues being able to host major events.
Of course, the structure will be heavily-reviewed by the Outer East clubs and is obviously subject to change, with the draft proposal of conferences creating the following intriguing, mouth-watering divisions:
– Beaconsfield, Berwick, Cranbourne, Doveton, Narre Warren, and Pakenham.
– Healesville, Mount Evelyn, Seville, Wandin, and Woori Yallock.
– Emerald, Olinda, Officer, Monbulk and Upwey Tecoma.
– Belgrave, Berwick Springs, Gembrook Cockatoo, Powelltown, Warburton Millgrove and Yarra Junction.
– Alexandra, Broadford, Kinglake, Yarra Glen, and Yea.
Women's football could use a five or six club divisional model across multiple divisions with the flexibility of having alternative fixture days – be it mid-week, Friday nights, Saturday nights, or Sundays.
There would be a top-four finals system, with the grand finals to be played in conjunction with the veterans' competition.
The under-18 football and under-age netball would be graded, with the five to six club per division model utilised for a home and away season.
It would align with senior play as much as possible, and also have the flexibility of alternative fixture days if needed.
It's thought that the veterans' competition would include either seven or, potentially, five rounds, but it could also have the option of playing a grand final – paired with the women's competition – between the top two sides.
Reserves football could potentially be shelved for 2020, depending on club feedback.
The option also exists to run a reserves competition featuring the clubs that could realistically field sides.
In recent days, the Star News reported on the current state of play when it comes to football and netball in the Outer East region.
Delving further into the netball, the Star News understands a proposal exists to run a summer competition if the traditional winter football-netball season couldn't get underway.
The 'Summer Blitz' could be held over eight or nine weeks, with clubs competing in their current divisions.
Each week would consist of two rounds per club against opposing sides, with game times consisting of two halves.
While netball is traditionally graded each year based off clubs' senior football performances, AFL Outer East has proposed a cross-divisional finals series in the Summer Blitz whereby the top four of each division could compete on one, blockbuster grand final day.
When each passing day brings with it far more questions than answers for everyday Aussies, AFL Outer East moved to assure its clubs and people that football and netball will always be there for them when the Covid-19 pandemic has eased.