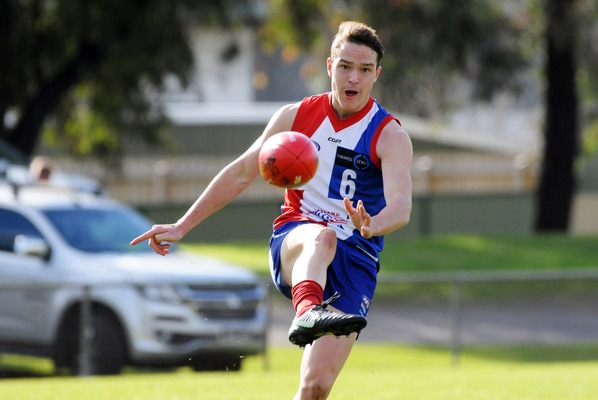 By Tyler Lewis
The 2020 VFL season is only around the corner, and after an unusual season 2019, the Casey Demons will look to the excitement of youth to fill its list vacancies this year.
The Demons were heavily influenced last season by the injuries its aligned club Melbourne had during the year.
But with Melbourne coasting through pre-season somewhat unscathed, the positions vacant are one coach Sam Radford hopes to fill with energetic youngsters.
While looking for youth, Radford also wants to develop a strong relationship with the Gippsland Power, signing unlucky 2019 NAB League players Ryan Sparkes, Tye Hourigan, Josh Smith and Riley Baldi as Casey players – as it is his aim for non-listed players at Casey to improve as footballers and eventually get on an AFL list.
"Those four have all signed up," he said.
"They are all training well; Riley is in rehab at the moment, just about to come out.
"Ryan Sparkes is training really well, Tye is going well and Josh had an injury pre-Christmas but he is back going really well at the moment as well, so we have really good Gippsland Power kids.
"We have some good kids from the Stingrays and some good Dragons boys too, so we have some really good young talent down at the club."
The Demons had some issues with its forward half in the latter half of the season last year, moving Jack Hutchins up forward to add to the fire power, but with the additions of youngsters Josh Smith and Corey Ellison, Radford visions a bright future in the forward six for the Demons with some promising young talent over the next few seasons.
"Josh is a great size and leads really well," he said.
"We also have Corey Ellison, a young boy who played as a 19-year-old at the Stingrays and Cranbourne.
"Corey has really good hands; they are all good young forwards who will need a couple years of developing.
"One of the main issues we had last year with our forward line was the injuries Melbourne had to all there forwards, and at the moment they are all up and going, looking really well so that will create a fair bit of depth and competition for spots up forward for us, which will only make us more competitive.
"The VFL is getting younger and younger, but we wanted to bring in some young talented players that we see who could be really good players for Casey, that can be good players for us but have the potential to go on and play AFL footy.
"That is something we are really proud of at Casey, getting guys drafted, and that is something we want to do, we want to be a team that is obviously successful, but one that is developing players for the AFL."
The Melbourne Storm will be playing a pre-season match at Casey Fields in the coming weeks, and after the final match of the year for the Demons had to be moved due to the ground's condition, concerns have risen over the condition it will be at the pointy end of the season, but Radford assures the surface will be in a perfect state after some well needed progress to the drainage.
"The ground is all good now, it has had re-drainage and everything," he said.
"We weren't on it until after Christmas, but the ground is in fantastic condition at the moment.
"We think the Melbourne Storm playing a game there will be good for the local area, they are expecting a decent crowd and then there is a JLT game on there too.
"We don't see any problem with the surface, it is great condition at the moment and it will be exciting to be back on there, it is looking in magnificent condition."
Casey will face Frankston round 1 at Casey Fields, and despite Frankston having only recorded the one victory last year, Radford said his men won't be taking the Dolphins lightly due to their improvement and the scare they gave his side in the last game of the season.
"We won't take them lightly, they nearly beat us in the last game of the year," he said.
"I think they had something like 120 tackles against us, we know they will be fit and come out really hard round 1.
"We can't afford to take any team lightly, all the stand alone teams have recruited really well, there are never any easy games in the VFL.
"We will certainly be looking to get out there round 1 and get the season going on the right foot."
The Casey Demons will kick-off its season against the Frankston Dolphins on Saturday 4 April at Casey Fields from 1pm.