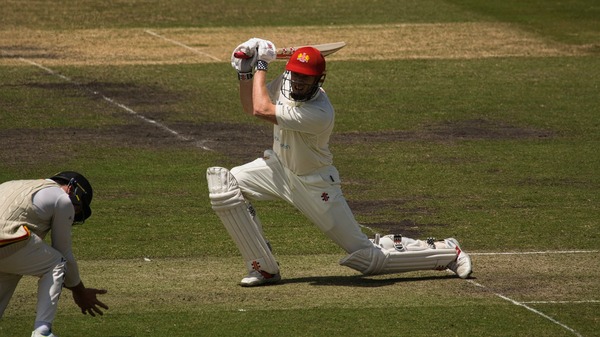 By Nick Creely
Make no mistake about it, Casey-South Melbourne are one of the in-form batting groups in the competition.
And that isn't just within the first XI – the Swans are starting to rack up the runs through the grades and showcase the depth that's been so heavily talked about during the off-season.
It seems a far cry from the Swans' opening round clash against Prahran when they were skittled for just 45 on their home deck.
But things seemed to have clicked for Brian Keogh's group.
On Saturday, on the picturesque Junction Oval against St Kilda – the Swans, coming off a strong win against Fitzroy-Doncaster the week before – saw an opportunity to make the most of a deck that's seen plenty of runs this season, and pain for bowlers.
In the only Sheffield Shield game this season between Victoria and South Australia, there was a total aggregate 12/1287 across four days.
But there was a bit more life in this deck, and the Swans openers, skipper Luke Wells and keeper-batsman Devin Pollock had to fight hard for their runs and showcased rock-solid techniques against a disciplined opposition bowling attack.
The pair added 67 for the first wicket, with Pollock falling for a patient 37, bringing Wells and Nathan Freitag to the crease.
The captain and vice-captain have spent plenty of time at the crease this season, and the pair added a further 63 runs to the score, still playing with patience but crucially putting away the bad balls.
Wells (65) fell short of back-to-back centuries when he edged behind off seamer Shea Gribben (1/41), but the Swans were steadily building into a potentially monster total.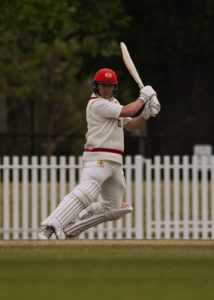 Freitag (69) registered his third half-century on the trot, while the highly talented Joel Mitchell crunched 58 and once again showed he's one of the most promising players in the competition.
Entering the final session, the Swans lifted its aggression, which was always going to yield more wickets for the Saints, but a blistering knock from Jordan Wyatt (61 off 44 balls), saw the Swans push towards 300.
In Wyatt's blistering 50-minute knock, the middle-order dynamo whacked five sixes and took a liking to emerging spinner Todd Murphy (2/121) in an innings that the aggressive right-hander has become known for over the last few seasons.
A vital cameo late in the day from James Maxwell (20) then saw the Swans reach stumps with a strong 9/329 next to their name – setting up an intriguing day two on Saturday.
Swans coach Brian Keogh said that his group has come a long way since the opening exchanges of the season, but was wary that the total wasn't a safe one with the wicket flattening out as the day progressed.
"We walk away thinking, 'yeah, we've got 330', and most people would take that but I'm far from saying that's enough – we're in for a super competitive game, and I think in the last hour or so the game will be on the knife's edge," he said.
"There's been steady improvement with the bat, and we're starting to really trust our line-up – four guys getting 50 and 60 aren't ideal, you'd ideally want one of those to go on, but you'd take that most weeks.
"As a coach, you always want more – I suppose if you wanted to be critical, if one of those guys went on to get the big one, you are looking at 350, 355, and if you get that, it feels really good."
Keogh said that the wicket did provide something for bowlers if they stayed true and stuck to plans, and believes his bowling group took some learnings from the day.
"If you hit the right areas back off the length in the first session there was plenty in it – Wellsy and Dev faced plenty of balls, and either left it or played and missed at plenty," he said.
"The reality is the weather is going to be better this week, so the wicket will probably be even flatter, but even towards the back-end of the day if you bent your back – which a lot of Saints guys did – there was still some movement.
"I thought it was a really good cricket wicket – I know a lot of people talk about how flat it is, but I thought it was great; it seamed early and then flattened out.
"They had an off-spinner (Todd Murphy) who bowled really well – Jordy took him as he can and got on a bit of a run, but he was getting it to turn and bounce. It was a really competitive day."
It was also a strong day with the blade for the seconds and fourths, who made 7/338 and 8/327 respectively, with Keogh adamant that the depth of batting is as good as it's been in recent memory.
In the seconds, the two leading run scorers in the competition, Aaron Fernando (128) and Chris Benedek (80), continue to not just knock on the door for first XI selection, but barge it down.
The Swans are also set to welcome back Dylan Hadfield and Lachie Sperling – both vital players in the group – in the coming weeks, while the likes of Ashley Chandrasinghe, Ashvin Adihetty and Ryan Eaton are more than capable of breaking into the side.
"Growing pains is what we aspire to have to be a successful club, so that it's harder to get out than it is to get in – this is the problem that Melbourne, Fitzroy, and the Dandenongs battle with. Our batting depth is strong," Keogh said.
"Chris Benedek made 80 on the weekend, and his average went from 120 to 110, and if you go through the grades, he's got the best average by a while.
"Aaron is demanding a spot, and so is Eggs (Benedek), and we'll have to manage that, but respect the guys that are there at the moment – at some point, you just have to find a way to get these guys in the side.
"I also cannot remember the last time our fourth XI made 300, let alone 275 – that again, with where we're trying to be, that is the type of thing that we're looking for."
Play will resume at the Junction Oval at 11:00am on Saturday morning.