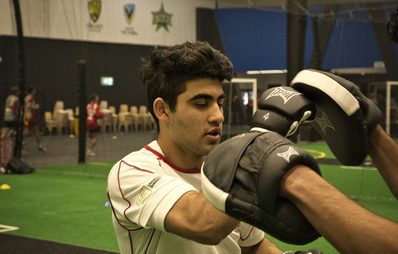 By Tyler Lewis
Opening the batting is a test of not only skill, but also patience.
For Shobit Singh, both characteristics come second nature to him as he leaps into the big time.
Singh moved from India before he could even grasp a cricket bat, but as soon as he could, the runs began to pile up.
"My parents are originally from India, from Punjab," he explained of his upbringing and introduction to cricket.
"I was born there but came to Australia when I was seven-months-old. I started playing cricket when I was 10 years-old, and I started playing under-11s when I was 10.
"I started at Narre South and Berwick Springs, and in under 11s I started off only getting out once the first year which was pretty surprising.
"We retired on 30 and then in under-13s I think it was 50. From there I played under-13s and won the premiership that year, and under 15s as well."
Singh currently attends Haileybury College, the former home of Australian bowlers James Pattinson and Jon Holland. Walking the halls of the college and striding out to the middle in the APS system was something Singh always knew would improve him as a player.
"I always wanted to go there, I started Year 7 at Haileybury," he said.
"Before that I went to Heritage College and was always looking forward to go to a private school, for future plans, and to play school cricket.
"It has really good coaches, Brad Hodge is one of our coaches and we also have Shannon Young who is the Monash Tigers coach as well."
At clubland, Singh plays with the rising Casey-South Melbourne in the Victorian Premier Cricket competition, and over the past few seasons has been a mainstay in the Swans' fourths and thirds development sides.
With runs flowing thick and fast, the opening batsman will be knocking on the door for spots in higher sides for the Swans to assert himself as more than a junior prodigy, with the youngster highly rated by the club as one of its emerging stars.
His utter appetite to score mountains of runs was showcased last February, when Singh accumulated a monster tally for Victoria.
Singh compiled 320 runs in six matches, breaking the previous record set by Australia's current limited overs captain Aaron Finch, but Singh wasn't stopping there, he also broke the highest innings score of 112 when he registered 144 not out.
Despite powering himself into the record books, Singh believes the knock of 144 not out – in which he carried his bat for the full 50 overs – doesn't sit as his best, as one knock on foreign soil in the green and gold has a special place in his heart.
"It is mixed feelings, honour, pride, bit of pressure as well, nerves, but overall a good feeling to represent your country," he said.
"I always just try to do my best and win the game.
"As an individual, probably my 107 against Pakistan in Dubai, overseas (is my best).
"Firstly, I was playing overseas against an international opponent and I was most importantly representing my country, which is a big opportunity and is the most special century I have had so far."
Singh has recently been selected to represent Victoria Country in the under-17 national tournament, and the youngster said he will follow the mindset of his heroes in order to achieve similar accomplishments.
"My main mindset is to stay out there as long as possible because it is going to get easier as the day progresses," he said.
"I'll look to be be mentally strong, and not to get caught in my shell and keep playing my shots.
"But mainly I want to stay there and occupy the crease.
"I idolise Steven Smith, he is my favourite player… Just because of his consistency of runs, and the way he is mentally strong.
"In the (recent) Ashes series, even though he got struck, he was just fighting through it with his mental character.
"Long term, I want to represent the senior men's cricket team, both Test and ODI, and to play in the World Cup and win the final for Australia."
The under-17 tournament will commence in Mackay on 30 September and conclude on 10 October, a tournament that will be crucial for Singh's aspiration if he can have a similar tournament to his previous for Victoria.