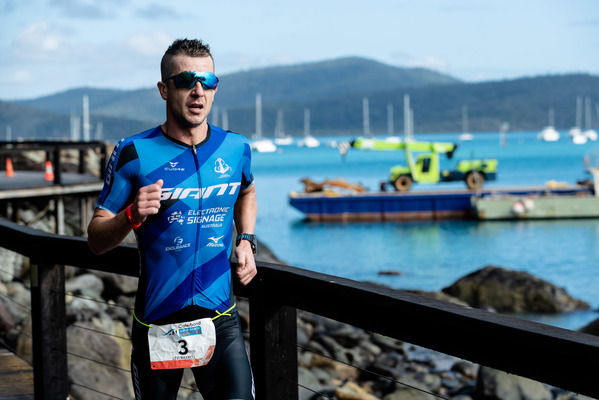 By Nick Creely
Pro Triathlete Levi Maxwell continues to go from strength-to-strength, chalking up wins and eyeing off his next challenge.
And despite the setbacks of his year so far, including being struck by a car while riding recently, injuries and illnesses, the Cranbourne athlete continues to find a way with his immense determination to succeed.
It's a trait that will ensure that he can overcome any adversity.
His latest win came last weekend at the Airlie Beach Triathlon in Queensland, after holding off fellow pro athletes Daniel Coleman, Luke McKenzie and Sam Betten to stride over the line with a time of 1:56:21.58.
Maxwell said he was proud of coming away with a tough win in what is a grueling course after edging clear in the final moments.
"I had a really good swim for me, a couple of the guys are quality swimmers and some of the best triathlon swimmers in the country," he said.
"I kind of kept within 30 seconds of them, which is really good for me, and that's always been my weakness, so to come away with a good swim was great.
"The bike probably wasn't where I'd like it to be, I've been trying to focus on my swim lately, so its one of those things, you take a step back in one leg and a step forward in another, but I ended up having the second fastest, so I wasn't terrible.
"But, onto the run I was in second place, and just felt really good, and it was my first race back in a little while, and run one of my best 10 kilometers and caught Luke McKenzie for the win.
"I then stormed away with the win, which is a pleasant surprise."
With the latest win a massive confidence-booster for the champion Triathlete, Maxwell will be heading over to China for the first time to compete in what is sure to be a testing field.
"I've got another race, I think on 8 September, that's an Ironman 70.3, so I'm really looking forward to that," he said.
"It's a pretty big field, I think there's 20 guys on the start list, and it's pretty quality – an ex-world champion is racing, and it's just a really interesting list, an odd mix and you never really know who is the favourite, because you just don't know. It'll be an interesting race."
Maxwell said in preparation for the race, he'll look to acclimatize to what is expected to be much different conditions he faces in Australia.
"Each race is a bit different, and for this race, I'm doing a little bit of indoor training, it's not that hot there, I think the low is 15 and the top is 25, but it will be a bit sticky," he said.
"So to try and get used to that, indoor training helps and I'll just have the heater on and set it to 25, and it's the same with running, I'll just train on a treadmill and try and get used to running to the heat.
"I think the main thing is, you have to prepare to consuming fluids and fuel in that temperature. It's easy to digest and stomach that sort of stuff when its cooler, but when its hotter, that's when its more of a challenge."
Levi wishes to thank his sponsors, GIANT bike, 2XU, local concreter Anker Concrete, and Highview accounting for their support. To follow Levi's progress, follow him on Instagram, levi_maxwell_aus_triathlete