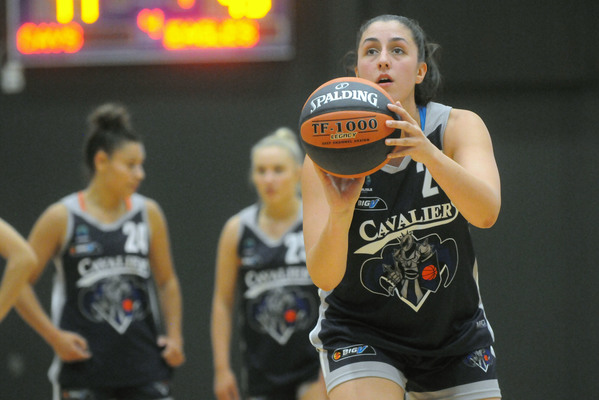 By Hayley Wildes
Round 14 was a roller-coaster for the Casey Cavaliers. Whilst teams grabbed impressive wins, some losses were also endured.
The Championship men dropped a game on the road to Werribee, 114-97. In a high-scoring affair, the Cavs shot the ball well, but they couldn't slow down the Devils who carved through Casey's defence.
Matt Donlan (32 points) caught fire in an impressive offensive display, while Brandon Polk (18 points and 7 rebounds) and Raheem Lemons (15 points and 7 rebounds) were their usual busy selves.
The loss, Casey's third in a row and fourth in the last five games, sees them fall to fourth on the ladder with a 12-6 record.
The Championship women have endured a horror season and that continued on Saturday in Sunbury. Taking on the third-placed Jets, the Cavs were completely outplayed and suffered an 83-45 loss.
Toccara Ross (16 points and 10 rebounds) and Sarah Halejian (11 rebounds, 5 points, 4 steals and 3 assists) battled hard and played all 40 minutes, but it wasn't enough as they lost their ninth game in a row. With a 4-10 record, the Cavs sit eighth.
The Youth League 1 men had two match-ups over the weekend and split their games.
On Saturday night at home, they made light work of Geelong, 89-68. Corey Roos (21 points, 5 rebounds and 5 assists) and Brendon Head (13 points and 13 rebounds) led the way in an entertaining game.
Backing up a day later on the road, Casey fell to Hume City. The Cavs were bullied in the paint as the Broncos outscored them 62-44 in the key as they recorded a 94-80 win.
Blake Taylor (19 points, 6 rebounds and 5 assists) and Corey Roos (14 points and 6 rebounds) did their best to keep Casey in the contest, but they couldn't slow down Hume City's Marshall Kearing (31 points, 8 rebounds and 4 blocks).
Boasting a 12-7 record, the Cavs sit fourth.
The Youth League 1 women took care of business with ease over one their main rivals, Warrandyte. In a big clash in the scheme of the season, Casey's brilliance and team play shone through in a convincing 106-70 win.
Incredibly, the Cavs dished 36 assists on 43 made baskets – a product of their willingness to share the ball and create scoring opportunities for one another.
Lauren Tuplin (26 points, 9 assists and 6 rebounds) did it all in another dominant outing, while Bec Peacock (21 points, 5 rebounds and 5 assists) and Kim Shankland (16 points and 8 rebounds) were involved in everything.
Riding an 11-game winning streak, the Cavs sit on top of the ladder with a 14-2 record.
Round 15 is an extremely busy one for Casey. On Saturday, a Youth League 1 and Championship women double-header tips off from 6pm at Casey Stadium, while the Championship and Youth League 1 men take on Corio Bay and Bendigo, respectively.
On Sunday, a Youth League 1 and Championship men double-header will get underway from 1:30pm at Casey Stadium.