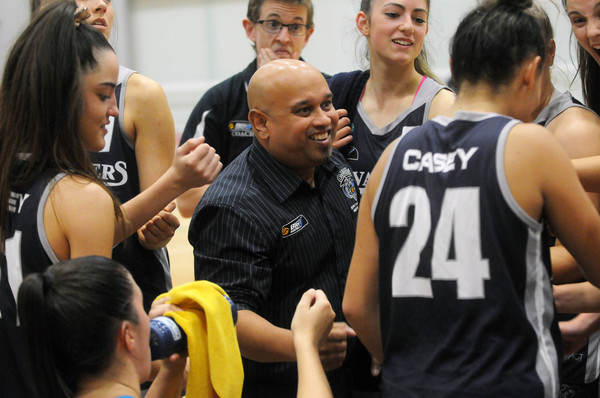 By Hayley Wildes
It was a tough weekend for the senior Casey Big V teams, but the junior Cavs scored impressive wins.
The Championship men took on Hume City – one of the best teams in the competition – and fell short in a high-scoring affair.
The Cavs got strong contributions from across the board, highlighted by six players scoring in double figures, but the Broncos also got an incredibly even output to score a 125-110 win.
Raheem Lemons (21 points, 16 rebounds, 8 assists, 3 steals and 3 blocks) almost recorded a triple-double and was on another level as he attempted to put the team on his back, while Brandon Polk (20 points and 9 rebounds) was also impressive.
The loss sees the Cavs fall to 12-5 on the season to sit third.
The Championship women slumped to their eighth loss in a row, falling agonisingly short of Hume City.
With stars Sarah Halejian (21 points, 10 rebounds, 3 assists and 3 steals) and Toccara Ross (21 points and 7 rebounds) doing all they could, the Cavs were in the contest all the way.
With 12 seconds on the clock, Halejian tied the scores with a monster triple, but the Broncos responded with a lay-up to claim a 72-70 win. With a 4-9 record, the Cavs sit eighth.
The Youth League 1 women made it a perfect 10 against Craigieburn at Casey Stadium on Saturday night as they won their 10th game in a row. The Cavs were too good for the Eagles as a total team effort saw them claim an 80-67 win.
Bec Peacock (13 points and 9 rebounds), Tess Young (12 rebounds and 11 points) and Steph Leclerc (9 points, 9 rebounds, 4 assists and 3 steals) were electric for the ladder-leading Cavs, who boast a 13-2 record.
The Youth League 2 men returned to the winners' list with a win over Sunbury at home on Saturday night. With five players scoring in double figures – led by a monster outing from Blake Taylor (26 points and 17 rebounds) – Casey came away with a 97-85 win.
The Cavs (11-6) sit fourth on the ladder.
Looking ahead, Casey Stadium will host two massive Round 14 clashes on Saturday night. First up, the top of the table Youth League 1 women face third-placed Warrandyte at 6pm, before the Youth League 1 men take on second-placed Geelong.
Meanwhile, the Championship women hit the road on Saturday night to take on Sunbury and the Championship men travel to Werribee on Sunday.
Furthermore, in exciting news for the Casey Basketball program, two rising stars have been selected to under-18 School Sport Victoria (SSV) basketball teams.
Lauren Tuplin will be representing SSV in the under-18 girls national basketball championships, while Blake Taylor will suit up for SSV in the under-18 boys national basketball championships. Both championships are being held in Bendigo in August.
Tuplin helped the Cavs claim the Youth League 2 women's championship last season and is dominating in the Youth League 1 women's competition this season; averaging 17 points, 5 rebounds and 2.2 assists per game.
Taylor is starring for Casey in the Youth League 1 men's competition, averaging 19 points, 8 rebounds and 2.8 assists per game, while also often suiting up for the Championship men as well.