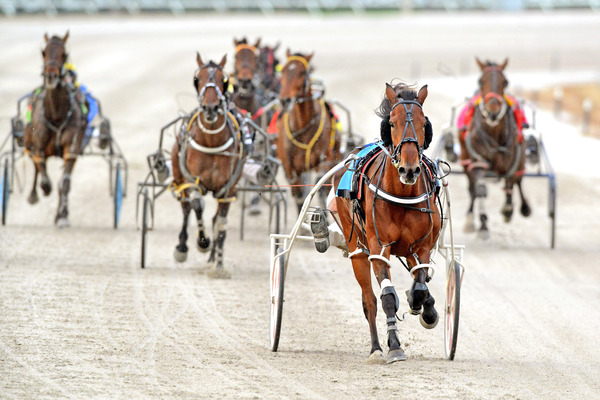 By Russell Bennett
The Inter Dominion is looked upon by some as the Cox Plate of harness racing, and early next month the blockbuster event hits Cranbourne in a massive boost for the sport in the south east.
The Inter Dominion Championship is truly one of the world's great harness racing series.
It was first established in the mid-1930s and has long been considered the ultimate test of equine speed and strength in the discipline. It includes three heats and a final.
This year's series starts at Tabcorp Park in Melton on 1 December before heading to Ballarat on 4 December, and Cranbourne on 8 December before returning to Tabcorp Park for the grand final on 15 December.
Cranbourne Harness Racing Club chief executive Neil Bainbridge described just what it means to have the famed series hit Casey's showpiece sporting facility.
"Harness Racing sought submissions from all venues across the state as to why they'd like to host a heat," he explained.
"Cranbourne made a very detailed submission that we put a lot of work into.
"There were a couple of simple principles for us – we think we've got the best harness track in Victoria, and outstanding facilities so we think we'll put on the best show possible.
"Also – we think it's a wonderful opportunity for harness racing to continue to grow its brand in this vastly-populated south eastern area and certainly in the City of Casey."
Mr Bainbridge said the event provided the opportunity to not only engage with existing harness racing enthusiasts, but also to secure the next generation of people involved with the sport.
"We're very bullish and very confident that we've got such an outstanding racecourse at the moment – whether it be the track or the facilities – that we'll deliver a great job and a great product for harness racing in Victoria," he said.
"That was the crux of our submission – it is about getting people on-course, it is about getting people engaged with the sport, and we think we've got unrivalled facilities of any harness track in Victoria that'll provide the absolute best for customers when they come to enjoy what'll be a spectacular night of harness racing."
Cranbourne's upcoming Inter Dominion heat night truly is a massive event for the area.
"This is a venue that runs 118 times per year and I'd go so far as to say that this is arguably the biggest night of the year for any racing product that's here at Cranbourne," Mr Bainbridge said.
"We've had, obviously, the Tricodes just recently and lots of great thoroughbred night meetings but I think this Inter Dominion meeting will be (showcasing) horses at the top of their game.
"Some people call the Inter Dominion the Cox Plate of harness racing, and we'll have all those quality horses that will need to compete at the heat here to secure their sport in the final at Melbourne the following week.
"From that point of view, to get the best of the best to your venue is what we all aspire to. Harness Racing Victoria has put a significant vote of confidence into Cranbourne, and Cranbourne has utmost confidence that it will deliver an outstanding product.
"This is a great opportunity for our club to continue to grow the brand of harness racing in the south eastern suburbs, and we think on the back of this Inter Dominion night it'll be a terrific boost for harness racing in Victoria, but more importantly the south east.
"I'd encourage everyone to come along. We're going to see Group 1, elite performers at the peak of their game here at Cranbourne. That doesn't happen too often where you can get the opportunity to bring elite sport out into the south eastern suburbs."