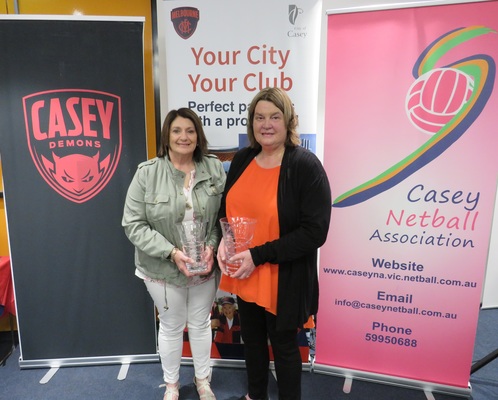 By Hayley Wildes
Within every successful sporting organisation, there are people who go above and beyond what is expected of them. These individuals do it for the love and the community.
For the Casey Netball Association, Debbie Schramm and Sue Booth have done just that for over 20 years. Both were recognised for their tremendous contributions to the Casey Netball Association at the Casey Demons Netball club launch last Wednesday morning.
Having a Casey team compete in the Victorian Netball League (VNL) was the dream of both Debbie and Sue, so it was fitting that they received service awards when the newly-formed VNL club was launched.
Both started their respective journeys with the Casey Netball Association (formerly Cranbourne West Netball) in the 1990s and both have worked tirelessly to help Casey become what it is today – a local netball hub with over 4500 registered players.
The two met when Debbie coached Sue's eldest daughter Rebekah (now Casey VNL president) in the late 1990s and the rest, as they say, is history.
"That's sort of how our friendship began," Sue said.
"There are so many parallels in our lives; we're born four days apart, we're both one-eyed Collingwood supporters, our mothers' names are both Jean, and last Christmas we bought each other the same gift without knowing – just some real uncanny stuff."
Both were vital board members for the better part of 20 years and although they are no longer on the board, they remain key drivers for the Casey Netball Association; Debbie as general manager and Sue as operations manager.
"You sort of just keep putting one foot in front of the other and you probably don't think about it until you have a day like last Wednesday where you talk about it and start reflecting," Sue said of her time with Casey.
"We may be getting older, but we still have a lot of knowledge and I know people are grateful for us here and it's a lovely feeling to feel so appreciated – the award was just lovely.
"Obviously with what has happened at Casey with the VNL licence, it's a time of transition and it's a time for new beginnings, but I think the current board is trying to establish that there's still room for everything and our association's history is very important."
The two have become great friends over the journey and help each other in their respective roles.
"We definitely keep each other going," Sue said.
"It's been such a challenge for us and we've learnt a lot because we didn't ever think we'd be doing anything like this – we thought we'd just peter off and start looking after our grandchildren, but now we're as busy as we've ever been."
"We've had a lot of rewards out of it and now that our VNL dream is coming to fruition, we want to support that because that was our dream."
Speaking about the VNL licence, Sue can't help but smile.
"We still pinch ourselves to be honest," she said.
"(That first game) will be mind-blowing really."
Debbie and Sue have given so much to netball in the region and you can rest assured that they will be front and centre when the Casey Demons compete in their inaugural season of VNL in 2019.