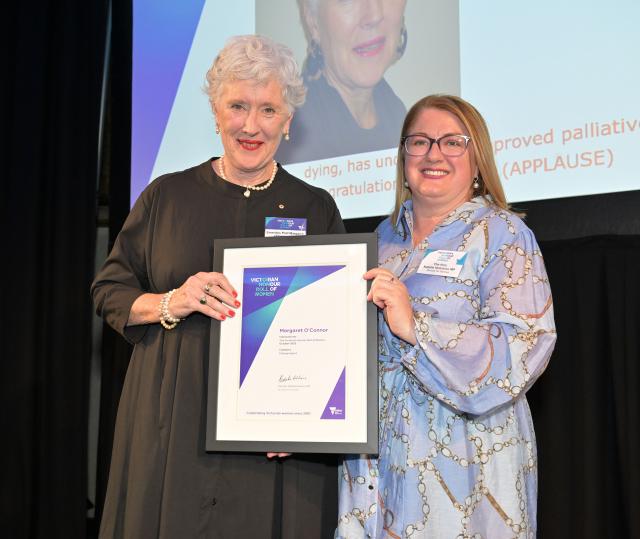 By Emma Xerri
After three decades of tireless work in palliative care, Emeritus Professor, Margaret O'Connor, has been celebrated with an esteemed place on the Victorian Honour Roll of Women.
O'Connor is now among more than 700 women who have had their leadership achievements immortalised on the public record for excellence in their field and commitment to their community, which she has displayed in all aspects of her work locally, federally and internationally.
"I was thrilled to be recognised in this way, and it's something I really didn't expect," O'Connor said.
"The Honour Roll is recognition of the roles of women in the Victorian community, and sometimes those roles might be a little overlooked or not acknowledged as much as they ought to be.
"I started my work in palliative care because I was frustrated with the organised health care that happens in institutions, where people don't have a say over things like when they'd like to shower or exercise, and I was frustrated over having to conform.
"Caring for dying people has always been a challenge in institutions, particularly in hospitals where it's not really set up for looking after people who are dying. And if we were to go back in history a little bit, everyone died at home, so I became very interested in home-based care and in making sure we were able to offer people that choice if that's what they wanted."
After a diverse and highly transformative career in palliative care, which has seen O'Connor drive the early development of palliative care services in Victoria and work extensively to expand Victoria's palliative care research and training, this honour is by no means a first for the Palliative Care South East chair.
In 2005, O'Connor was made a member of the Order of Australia for service to the development and establishment of palliative care services in Victoria.
And after serving as foundation chair of Palliative Care Nursing at Monash University and founding three palliative care services across Melbourne, O'Connor was awarded the prestigious Winston Churchill Fellowship in 2018, enabling her to explore end-of-life issues in a number of countries.
Her tremendous work has been recognised internationally and she has spoken at numerous overseas conferences and undergone expert visits to Singapore, United Kingdom, Timor L'Este, Vietnam and Saudi Arabia.
"Palliative care helps people to have a choice about all sorts of things at the end of their life, and the choice about where they receive their care is really important.
"A ward, where the emphasis is on people getting well and being discharged, is not the optimal place to die, and people who have a limited time left to live probably want something more comforting than that.
"While people do sometimes need to go to hospital to get their symptoms managed, for example, it's really important that we're able to support them in having a choice over where they receive most of their care.
"At Palliative Care South East we're very proud of the work we've been doing this year, and we're looking forward to all the challenges that having a different profile in a different area will bring."