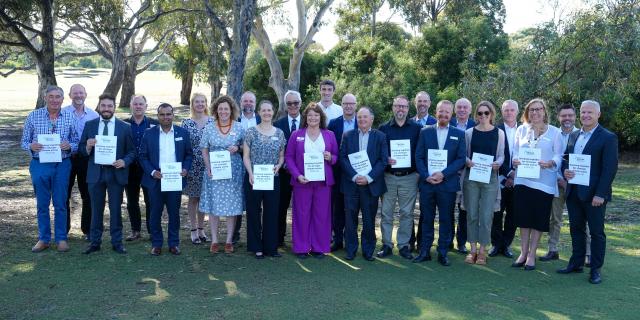 By Violet Li
Casey Council has endorsed a new plan to change the way climate impacts are managed across the south east region.
South East Councils Climate Change Alliance (SECCCA), including Casey Council, officially launched the new blueprint – SECCCA 2024-28: Working Together for Stronger Climate Action – on Wednesday 8 November.
The action plan recognises the importance of a partnership approach to deliver stronger results for local communities.
The action plan identifies practical programs for delivery with the Australian and Victorian Government partners and nine local council members across the SECCCA region.
The priority projects include business energy support program, residential home resilience ratings tool, and small business climate adaptation toolkit.
The SECCCA region is home to one million Victorians with a diverse mix of metropolitan, periurban and rural communities, producing $85 billion in Gross Regional Product annually.
The 2019-2024 action plan identified the reduction targets to keep warming below 1.5 degrees in line with the Paris Climate Agreement, which means the south east region needs to reduce emissions 5.8 per cent every year until 2037.
It has also found the region would experience more frequent heat waves, decreased rainfall, and increased flooding by 2050 on the current trajectory of national action.
Casey sustainability and waste manager Michael Jansen said Casey recognised that climate change required action by all levels of society.
"The City of Casey Climate Action Plan 2022-2030 is aligned with the SECCCA four-year Strategic Plan (2024-2028). Our Climate Action Plan supports the SECCCA target for the community to achieve net zero emissions by 2040," he said.
"While council is committed to educating, promoting, collaborating, and advocating for the community to achieve this goal, residents and businesses must be mindful of their own emissions. To become a net zero emissions community, we must work together towards efficient and low energy consuming lifestyles.
"In addition to reducing carbon emissions, a collective effort is also required to prepare for the impacts of the changing climate that will present itself through extreme weather events. Work is underway to inform a robust Climate Adaptation Plan that will outline a clear pathway for Casey to become a climate resilient city."
SECCCA chair Michael Whelan, who is also Bass Coast Shire mayor, said community surveys suggested that more than three quarters of residents were very concerned about the impacts of climate change in our region.
"SECCCA has taken a whole of community view, to work together and come up with practical steps to help mitigate and manage climate risk in our region," he said.
"This strategy charts the path for our members to work together and with our community to address climate change in our region."
The action plan was launched to an audience of Federal and State Members of Parliament, industry and business groups, peak bodies and councillors from across the nine SECCCA councils.
The draft action plan is set to be finalised soon and scheduled for delivery from July 2024.
The plan also includes transitioning council fleets to electric or hydrogen heavy-duty vehicles, reviewing the vulnerability of council assets, expanding the environmentally sustainable design Brief Ezy tool, a climate risk mitigation program for councils, advocacy on climate action, and purchasing carbon offsets.
Climate Action Minister the Hon Lily D'Ambrosio joined local leaders for the official launch as well as secretary of the Victorian Department of Energy, Environment and Climate Action John Bradley, Footy for Climate Alliance co-founder Tom Campbell and net zero lead for the Insurance Council of Australia Ange Nichols.
Other SECCCA councils are Bass Coast, Cardinia Shire, Greater Dandenong, Kingston, Mornington Peninsula Shire, Frankston, Bayside and Port Phillip.