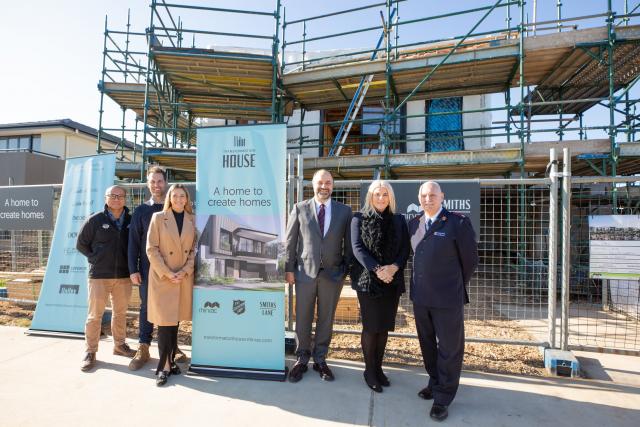 Mirvac has thrown its support behind The Salvation Army Australia's signature fundraising drive, The Red Shield Appeal, with the creation of Transformation House.
Located at Mirvac's Smiths Lane in Clyde North, the brand new 320 square metre two-storey architecturally designed home will be auctioned in November 2022, with a $500,000 fundraising target for the Red Shield Appeal.
Currently under construction, the design of the home was unveiled on Thursday 30 June, with Mirvac's Head of Residential Stuart Penklis and The Salvation Army's Michael Wright (Major) Corps Officer, Cranbourne Corps in attendance.
Celebrity home building experts and Transformation House ambassadors, Dan Reilly and
Dani Wales of The Block fame, also attended to launch the fundraising initiative.
With a focus on providing housing, food, financial aid and other assistance to those who are homeless or living in poverty, The Salvation Army Australia helps a person every 17 seconds across Australia through its network of services and programs, offering hope to those who may be experiencing hardship or injustice.
$500,000 can provide 2564 days of emergency accommodation for those in need.
The Salvation Army Australia's Michael Wright (Major) Corps Officer, explains that funds raised from the sale of Transformation House will create an ongoing legacy, helping the charity reach countless individuals and transform lives for years to come.
"Housing stress has been rapidly increasing across Australia," Mr Wright said.
"Right now, for every person you can see who is homeless there are 13 more that you can't see.
"The funds raised through the sale of this house means that Mirvac, and the new homeowners, are playing a critical role in enabling The Salvation Army to address these issues by ensuring we continue to provide crisis, transitional and long-term accommodation, refuges for women and their children, rooming houses and community housing.
"We thank Mirvac, along with their partners, for taking such an innovative approach to fundraising. Together, we can work towards leaving no one in need."
Mirvac's Head of Residential, Stuart Penklis, explains that the House demonstrates Mirvac's commitment to reimagining urban life and building sustainable communities for the future.
"Mirvac is committed to leaving a positive legacy, and one of the ways we do that is through our community partnerships," Mr Penklis said.
"We have been working with The Salvation Army Australia since 2020, and Transformation House is
a great way for us to contribute to creating sustainable communities from a social and environmental perspective.
"We hope the proceeds from this home will significantly help The Salvation Army Australia to continue its invaluable social and community services for people at-risk of homelessness and those seeking permanent housing."
Celebrity home building expert and Transformation House ambassador, Dani Wales said she and partner Dan Reilly are really proud to be partnering with Mirvac for this incredible charity initiative.
"Transformation House is a fantastic project from an environmental and social perspective and the auction is a great opportunity to raise much-needed funds for The Salvation Army Australia's Red Shield Appeal," Ms Wales said.
"We're looking forward to the auction in spring so the Salvos can use these critical funds to continue to provide essential services that will help transform lives for years to come."
The four-bedroom, two-bathrooms home features flexible living spaces, unique architecture, innovative technology and a resort-style backyard, complete with a Plungie studio pool.
Over 25 Mirvac suppliers have generously donated their skills and services in support of the important initiative, including Dowell Windows, Austral Bricks, Bluescope, and many more.
For more information on Transformation House, please visit tranformationhouse.mirvac.com.
For more information on The Salvation Army Australia Red Shield Appeal, visit salvationarmy.org.au/red-shield-appeal.