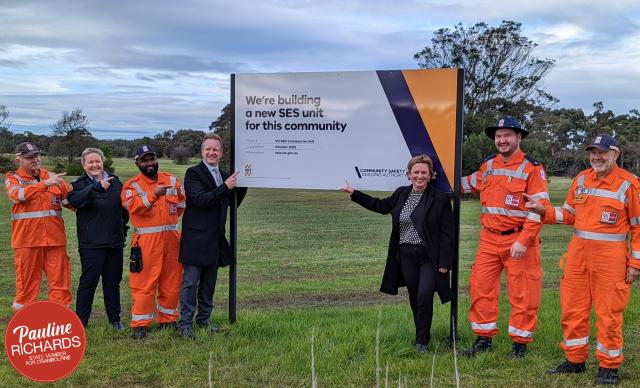 By Chloe Henry
It's been a long time coming but the Cranbourne community will soon welcome a brand-new Victoria State Emergency Service (SES) unit.
A unit for Cranbourne was initially announced in March 2018 by then-Minister for Emergency Services James Merlino, as part of a $34 million package to fund new equipment, vehicles and headquarters' across the State.
Land was recently acquired for the new unit at 1070 Cranbourne-Frankston Road.
The site was visited on 16 June by Cranbourne MP Pauline Richards, who was happy to announce the establishment of the new Cranbourne unit.
"We're supporting our hardworking volunteers as they help us during our times of need," Ms Richards said.
"I'm so pleased that Cranbourne is getting a new fit-for-purpose VICSES facility that will keep our community safe, make it easier for people to volunteer with VICSES and entice even more people to pull on the orange."
The facility will enable Victoria SES to recruit dedicated volunteers to continue its work protecting the community from accidents and natural disasters.
Construction of the site is set to begin early in 2023 and expected to be completed later that year.
The addition of a Cranbourne unit will ease the strain put on nearby units in Narre Warren and Pakenham.
The Narre Warren team, which services the entire City of Casey, averages 880 requests for help per year and can take over 30 minutes to respond to an issue in the Casey area, due to the size of the City.
MP Pauline Richards was appreciative of the effort nearby units have put into responding to calls for assistance from Cranbourne.
"I want to thank the fantastic Narre Warren SES volunteers for their work keeping the Cranbourne community safe and I look forward to seeing the new facility up and running to service our growing area," she said.
The Narre Warren unit will be responsible for training the new volunteers at Cranbourne.
If you're interested in volunteering, head to ses.vic.gov.au/join-us/volunteer or call 1300 VICSES (1300 842 737)