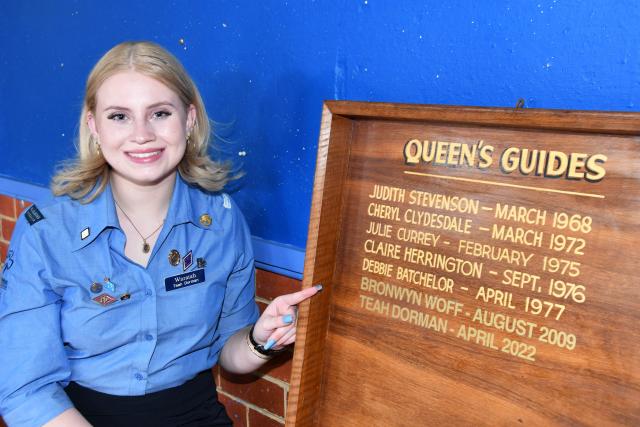 By Marcus Uhe
The Cranbourne Girl Guides are celebrating a royal touch among their ranks with Teah Dorman receiving the prestigious Queen's Guide Award on Saturday 4 June.
The 18-year-old's commitment to Guiding values of Promise and Law earned her the peak achievement in guiding. She is the first at Cranbourne to receive the award since 2009.
The daughter and granddaughter of former Guides joined Cranbourne Girl Guides in March 2011 and has completed 11 years of service, progressing through the ranks from Possum Guide to Ranger and Unit Helper, while achieving eight Triple Treat recruitment badges along the way.
If all goes to plan, she will become a Guide leader in the near future.
"It's the highlight of my week," Ms Dorman said.
"I love it the same amount [when I started] as I do now.
"I'm now a Unit Helper and the next step is be a proper leader and lead Paw Prints. That's the next step, gaining that qualification.
"I can help out now but would love to become a proper leader.
"I don't see an endpoint, it's a thing for life."
To receive the award she undertook and completed a variety of tasks.
Her service challenge saw her volunteer for Backpacks 4 Vic Kids, a Cranbourne charity providing essential goods for underprivileged children in need, where she undertook stocktake and produced information fliers to raise awareness of their service.
To complete her outdoor activity qualification, Ms Dorman qualified for a boating license.
It's a far cry from walking the Kokoda Trail in June 2020, as she originally planned for her outdoor component, but it was just one of the many aspects of her journey to the Queen's Guide Award that were complicated by Covid-19, and resulted in the completion taking four years, rather than the expected two.
But the pandemic wasn't all bad news, despite another overseas trip (to Mexico) also coming unstuck. The change in plans gave her extra time to meticulously plan her sessions with Paw Prints and younger groups.
"There were a couple of moments where I thought, 'Should I give up?' But I didn't, and I have Deb [Deborah Chamberlain, leader at Cranbourne Guides] to thank for that."
The award was presented to Ms Dorman by Guides Southern Region manager Jan Withers, and in March 2023 she will be presented at Government House as part of her recognition.
Ms Chamberlain, a leader of Ms Dorman and her "biggest inspiration" described her as a "truly inspirational young lady".
"Teah truly deserves to be awarded the Queen's Guide Award in recognition of the amazing contribution she has made to our local Guiding community and the wider community," Ms Dorman said.
"Teah is the kind of person who loves to see just how far she can push herself – so it came as no surprise to the leaders, her friends and family when she announced she had decided to aim for the Queen's Guide Award just after completing the BP Award.
"It has taken time, perseverance, dedication, passion and humour for Teah to finish this Award and seen Teah pushing outside of her comfort zone and making a real difference to Guiding and her community.
"The challenges of Covid-19 meant Teah had to change some of the activities she had planned but this demonstrated her ability to adapt and change course.
"We are so proud of Teah and congratulate her on this amazing achievement."