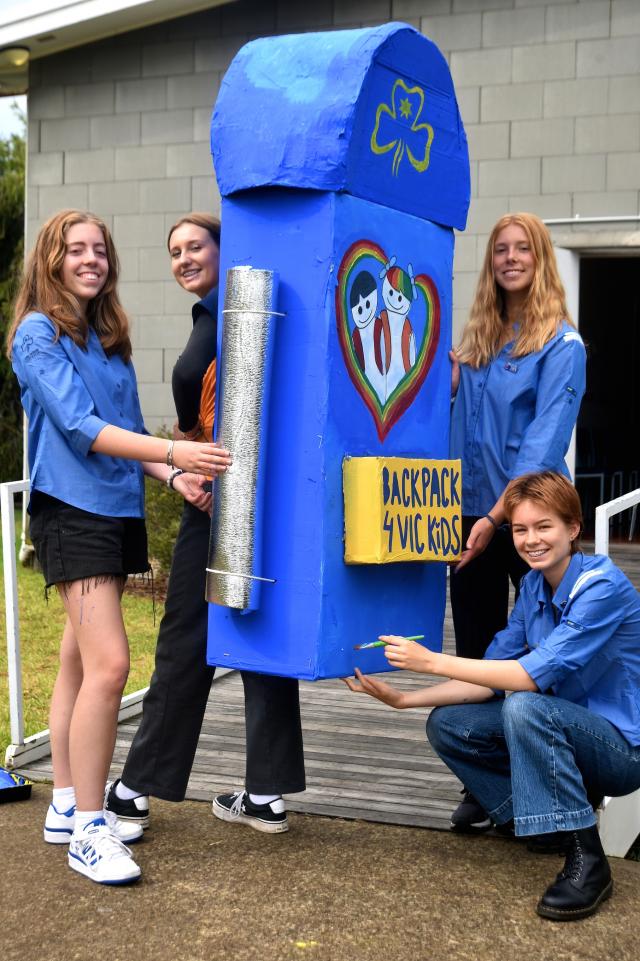 By Marcus Uhe
Cranbourne-based charity Backpacks 4 Vic Kids will be the beneficiaries of The Yarraville Girl Guides' tremendous fundraising work ahead of the annual Birdman Rally at the 2022 Moomba parade.
Backpacks 4 Vic Kids (B4VK) support children in emergency accommodation and out of home care such as foster care through providing essential items including toiletries and sanitary products, clothes, stationary and lunch boxes.
The Guides started with a fundraising goal of $1500 but as of Tuesday 8 March they had smashed through the $2500 mark through the promotion of the rally on social media. At a cost of $75 to produce and deliver each My Essentials pack, a $1500 donation would have funded 20 packs, meaning $2500 will provide more than 30.
Founder of B4VK Sally Beard said that she was thrilled to have the support of the Yarraville Guides.
"Each pack has a retail value of $400 but the impact of the increase in dignity for the kids is priceless," Ms Beard said.
"It's just so great to have young people choosing to support young people and it's a great fun way to collaborate.
"Community partnerships and groups supporting each other is so important."
The vehicle the girls will be using in the rally is a giant backpack, constructed from cardboard and other recycled materials such as chicken wire and hessian bags.
It sports hand-drawn designs including the iconic Guides trefoil and the B4VK logo, and even features a mock sleeping mat, an essential for any Guide heading outdoors for a camping trip.
Lily Lopez has the prestigious honour of piloting the bag at the rally on Sunday 13 March.
She said her group chose to support a charity they could relate to, being a similar age group to those the charity supports.
"We chose B4VK because a part of our Girl Guide promise is to give back to the community," Ms Lopez said.
"As a youth organisation ourselves, we chose something that would be closely related.
"One of my Guide leaders is a foster carer and we chose something that would help kids."
Despite volunteering to steer the vehicle, she said that she had a mix emotions about making the plunge into the Yarra.
"I'm a bit nervous, but also excited.
"It's going to be such a good experience and I don't know when I'll be able to do something like that again, so I thought, why not? It'll be fun."
To learn more about B4VK or to make a donation yourself, head to backpacks4vickids.org.au/
To find your local Guides group, head to guidesvic.org.au/