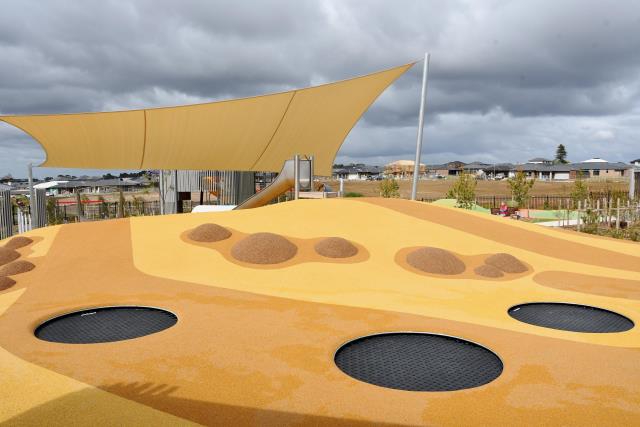 By Marcus Uhe
Variety Livvi's Place at Edgebrook in Clyde has won 2021 Park of the Year in Parks and Leisure Australia's Awards of Excellence.
The Merribrook Boulevard facility opened late last year and was specifically designed alongside child developmental experts to cater for children living on the autism spectrum, with sensory-rich play installations and quiet and themed zones, along with a barbecue area, slides, shelters, swings and toilet facilities.
It was recognised as the Victorian and Tasmanian winner in July, qualifying it for the national competition and was crowned the winner in an awards ceremony on Friday 26 November.
Edgebrook project director Kerry Balci said Stockland Residential was proud of its ability to provide for children and families of all aptitudes.
"Our focus is always on customers and how we can find way to improve lifestyle or provide alternatives for people of all abilities," Balci said.
"We worked to identify what's missing in nearby parks and one of the things we identified was inclusive play spaces. There's limited offerings for families that are on the autism spectrum.
"Seeing the kids play, particularly when we had kids testing the park and how much they enjoyed it, it almost brings tears to the eye."
Edgebrook worked with child behavioural consultants for more than 12 months to design and construct the facility with inclusivity for all at the forefront of their priorities.
"We wanted to find a way for children to navigate the park from ground level, in order to get them to engage in big pieces of the park.
"Sometimes what gets missed (in the design process) is often kids want to engage with big iconic piece on the playground and sometimes they are unable to due to their disability.
"Whether you're walking, in a wheelchair or whatever your ability is, you can access everything in the park. You're not excluded in any way, no matter your ability and where you come from."
The park's received funding from the City of Casey and children's charity Variety during construction.
Acting manager city and asset planning at City of Casey Joanna Noesgaard said council was delighted to receive the acknowledgement.
"The award is a wonderful recognition of the efforts of all those who have worked hard to provide this destination park here in Casey, designed to meet the needs of those living with autism spectrum disorder," she said.
"The park was born out of the recognised need to provide inclusive play spaces for all kids to play together including children living with ASD.
"The teams involved have created a fantastic space that balances amenity, therapy, education, ecology, colour and the seven senses in bespoke systems of play and refuge."