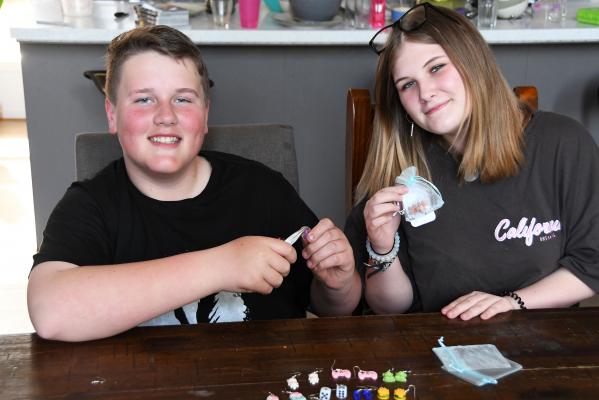 By Marcus Uhe
Clyde North resident Max Whelan may only be 12 years old but he's already impacting the fashion industry through his range of creative homemade earrings.
Earrings of Wonder produces novelty fashion accessories featuring teddy bears, kittens, gingerbread people, flowers and more.
With the help of his mum, Belinda, they started advertising their products on social media earlier this month and have had significant interest ever since.
His gingerbread people earrings proved particularly popular with the festive period on the horizon.
"We've got a lot of earrings being sold," Max said.
"I expected the selling process to have to go for a while but I think we've already sold about 20 pairs.
"We might not need to go to the market anymore because we're already selling so much through Facebook."
While having never taken major interest in the arts and crafts scene, Max has learnt the process of hand-constructing the decorations.
When he receives the jewels, he uses a set of pliers to fit them to a hook so the attachment can hang, before preparing them for distribution.
The project is a result of his young entrepreneurial brain working in overdrive.
"It's just a fun thing to earn some money.
"I love maths and I love learning about money. It was very interesting to find out all the calculations for the profit and costs.
"It's more the business side than the arts and crafts side that I'm interested in."
The inspiration to make jewellery came to him via his aunt, Catherine Ryan, who sells her own jewellery through her business, Totally Diamond Paintings.
"He wanted an idea of where to get stock from so I gave him a few ideas for suppliers and he went from there," Catherine said.
"I thought it was quite cool for a boy to actually want to make jewellery and earrings and do something crafty.
"He's always been an entrepreneurial person, he's always trying to find a way to make a bit of extra money."
As the business took off, he needed some employees, and found some willing contributors in the form of his sisters, Krystal and Ruby, who help with the construction and distribution process.
"He's got two older sisters who saw what he was doing and wanted to get involved, so he negotiated with them to become employees and subcontracted them!" Belinda said.
"They've been great help with everything. They've helped me a lot which has been really nice," Max said.
Customer service is a focus of the business.
He keeps an Excel spreadsheet of his customer base and is quick to set aside requested earrings when messaged on social media.
Each set of earrings is packaged in neat blue or pink bags and comes with a handwritten thank you note from Max.
"I'm not good at handwriting so at least they can tell it's me who's writing it."
As for what he'll spend his newfound riches on?
He's a big fan of Pokemon and owns an impressive array of cards and merchandise that he may like to add to, but he's keeping his options open for now.
To purchase the earrings or browse the selection head to facebook.com/Earrings-of-Wonder-103520198821112/