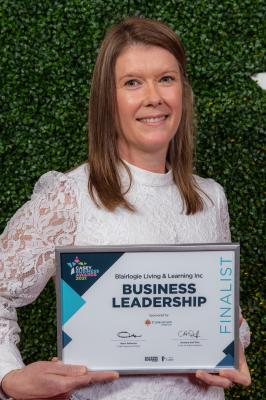 By Danielle Kutchel
A local disability service provider is among 12 businesses to have been named a finalist in this year's Casey Business Awards.
Blairlogie Living and Learning Inc was named as a finalist last month at a breakfast celebration for business award entrants.
The organisation is one of three finalists in the Business Leadership category.
Based in Cranbourne South, Blairlogie has been supporting people with a disability since 1987, providing a range of supports including housing, supported holidays, holiday programs, group activities, one-to-one supports and in-home support.
Chief Executive Officer Carolyn Carr said housing is a particular gap for people with disabilities, which Blairlogie is striving to fill.
The organisation has partnered with developer Wolfdene on Project 28, which has the ambitious aim of providing 28 homes for 28 people with disability by 2028.
Four of these homes have been opened so far, Ms Carr said.
"They've changed the lives of the four young men who are living there.
"It's enabled them to stay close to family and friends and the community they know."
As with all businesses, Covid has had an impact on Blairlogie.
Early in the pandemic in 2020 the organisation made the decision to remain open with modified services to meet government restrictions.
"We also first and foremost recognised that by just shutting our doors and not being able to deliver those vital and critical services to our clients and families that we were potentially putting people at risk," she said.
"We managed to remain open all of last year, delivering vital services to people. Obviously it was different to what they looked like in 2019, but we allowed people to receive supports that were just critical for their mental health and wellbeing and that of their families, allowing them to continue to work or have a well-needed break from their 24/7 caring role."
During the current circuit-breaker lockdown, Blairlogie is continuing to provide limited but essential services.
There have been other big challenges too including dealing with the "exceptional growth" that Ms Carr said Blairlogie has experienced.
"We support close to 300 people, we have a workforce of 180 employees. We've gone from a business that has a revenue of $1.8 million a year in 2012 to $13 million in 2021. It's been considerable," she said.
Government red tape also causes frustrations, Ms Carr said, along with the administrative burden involved in implementing the NDIS.
"But I think the work we're doing and the goals we've achieved and the difference and impact we make not only on the lives of people with disabilities but on our community, far outweigh any of the challenges that are thrown our way," she said.
"I think we're lucky to have an organisation that doesn't shy away from challenge, we accept it as part of doing business. I think if you want to make an impact you've got to embrace challenge.
"What keeps Blairlogie going and doing what we do everyday is the joy we see on people's faces when something that they thought couldn't be achieved, or they didn't dare dream that they could have, happens for them.
"People with disabilities have the right to be living a full life like anyone else," she said.
Winners of the Casey Business Awards will be named at a gala event in late June.