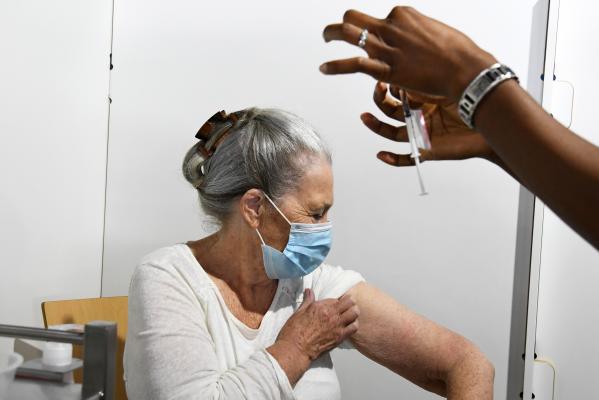 By Danielle Kutchel
The south east is now home to a major vaccination hub with the opening of a centre at Cranbourne Turf Club.
The club opened as one of Victoria's newest vaccination hubs on Tuesday 4 May to a queue of locals ready to roll up their sleeves.
Run by Monash Health, the hub will take walk-ins but bookings are encouraged.
Nurses there are administering the AstraZeneca vaccine, which is the preferred vaccine for those in the over-50 age group, and has been shown to be effective against Covid-19 in clinical trials.
The opening comes as Australia's vaccine rollout opens to Phase 2A patients – those over the age of 50.
The Cranbourne hub was expected to vaccinate between 300 and 400 people in its first day alone.
Andrew Smith was the first one to receive the shot at Cranbourne, and said he had been looking forward to it.
"I think being vaccinated is a good idea, I think most people will take up the offer," he said.
Geraldine McKenzie was also among the first to be vaccinated and said after seeing the queue, she was glad she had made an appointment.
She said she plans to bring her 100-year-old mother to the hub soon to receive her shot too.
"It's excellent to have had it done, I hope everyone does," she said.
"Get your jab!"
Also among those in the queue was Juan Carlos Loyola from Doveton Special Soccer School.
"I'm very happy. It's something that is very good not just for myself, but for my family and my community," he said of his immunisation.
"It feels like the right thing to do.
"As a leader of a group in the community, I'm encouraging them to do it."
He said Australia was in a fortunate position compared with other countries like India, and his own homeland in South America, which could explain why some people were hesitant to book in for a jab.
"We have two choices: live with fear in the house, not going out, or we get the vaccination, listen to the advice from the government and enjoy life. I really enjoy the second option!" he said.
"My message for my community is: just do it, don't be scared, because in the long run we will get the benefit of being free of all these problems."
Jeroen Weimar, Victoria's testing chief, dropped into the Cranbourne facility to receive his shot on Tuesday 4 May.
He described the vaccination as "an emotional moment".
"It's like a physical turning point but also a symbolic turning point – now, we're on our way back," he told Star News.
"Exactly a year ago we were in our first lockdown and you couldn't see a way out of it.
"Here we are a year later, we've got 530,000 or so Victorians vaccinated.
"It's a start – we've got a long way to go, but if we can get the vaccine to people, if we all keep hold of zero community transmission, then you can finally see the beginning of the end."
He thanked the Melbourne-based CSL team, which is producing the AstraZeneca vaccine, as well as the army of scientists and medical professionals in Australia and around the world who helped develop the medicines.
Mr Weimar encouraged the community to go and get their shots when they became eligible.
"When it's your turn, just get vaccinated. Let's get it done," he said.
The vaccination hub is located at Cranbourne Turf Club, 50 Grant Street, Cranbourne and is open from 9am to 5pm, seven days a week. Walk-ins are welcome between 9am and 4pm daily.
To book your appointment, call the Department of Health on 1800 675 398.