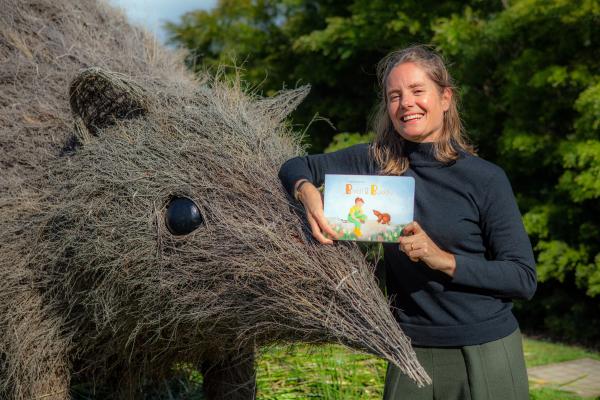 By Danielle Kutchel
Look carefully at the right time at Royal Botanic Gardens Cranbourne, and you might just spy a native Australian favourite: a Southern Brown Bandicoot.
But kids didn't have to look too hard last school holidays, thanks to four days of Big Bandicoot Backyard activities hosted at the gardens.
Kids – and kids at heart – enjoyed meeting the 'big' bandicoot created with natural materials from the gardens by artists Darryl Cordell, Vanessa Ellis and Trina Gaskell.
There were also a number of bandicoot-inspired activities for families to share in.
As part of the event, Melbourne author Jo Watson launched her new book Bindi and Buddy, which is inspired by the gardens.
Children from Aspire Early Education Cranbourne West were there for the launch and were treated to a special reading of the book by the author.
"When I started writing the book, the Botanical Gardens connected me with [their] bandicoot officer," Ms Watson explained.
"She took me around the gardens and told me more about the bandicoots, and … that's what gave me ideas for the story."
Ms Watson believes bandicoots are "fascinating animals".
"The thing that struck me about them is the type of things they like to do. There's a lot of overlap with what little kids do, in terms of digging around in the garden and hiding in the bushes," she said.
When it came time to do the illustrations for the book, Ms Watson visited the gardens again, this time taking photos and making sketches of the plants.
She transferred these into a computer program to digitally paint them to place in the book.
The colours used in the book are lifted directly from the photos themselves, meaning the illustrations are as realistic and true to life as possible.
"I tried to get those plants from the gardens into as many illustrations as I could, because I wanted the gardens to be an unspoken character," the author explained.
"I tried to infuse those colours and the peacefulness and sense of sanctuary that you get from the gardens into the book.
"I hope lots of children and families get to see the book, read it and enjoy the story and get a new appreciation of the bandicoots."