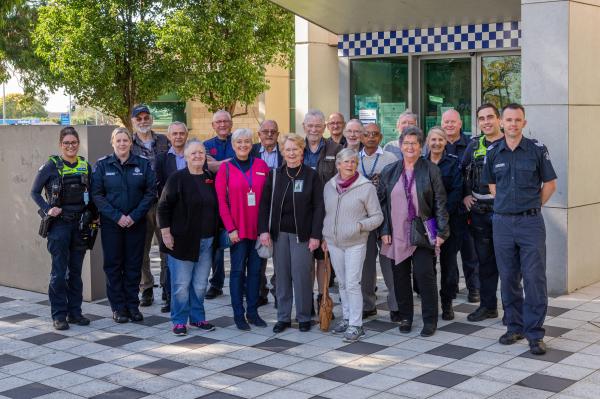 By Danielle Kutchel
A special morning tea at Cranbourne Police Station has recognised the vital contributions of the suburb's Justices of the Peace.
Justices of the Peace – JPs for short – have the power to witness various legal documents such as statutory declarations and affidavits, and can certify true copies of documents.
On Wednesday 21 April, Cranbourne police hosted a small group of Cranbourne JPs in a touching recognition of their work.
The guests were presented with certificates recognising their services for 100 or 200 visits to the document signing station, as well as certificates of appreciation.
Acting senior sergeant at Cranbourne Police Station, Nicole Spinks, said that the work of JPs helped police immensely, giving them some of their time back.
During Covid, with the police reception counter closed, the JPs continued to sign and witness documents by appointment and in a Covid-safe manner.
The morning tea also served as a bittersweet farewell from the police to the Justices as they take up residence in their new document signing station at Balla Balla Community Centre.
For the last 25 years the Cranbourne Police Station was home to a team of JPs who rostered on to sign and witness documents for the community.
Cranbourne's JPs sign up to 40,000 documents annually, and since reopening to the public on 18 January have already signed about 6000.
Peter Hooper, president of the Cranbourne Justices of the Peace Group, said that the move to Balla Balla Community Centre meant that residents of Cranbourne are able to have documents signed in a Covid-safe situation.
There are 3,750 Justices of the Peace in Victoria, and 98 document signing stations.
Each year, JPs witness around 2.3 million documents, helping more than 575,000 Victorians, freeing up more than 400 police men and women, and saving the community around $37 million.
To find a JP or document signing station, visit www.justice.vic.gov.au and follow the prompts.