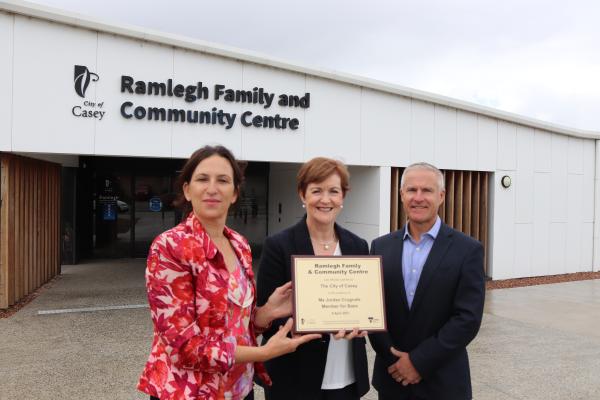 By Danielle Kutchel
A new $5.42 million community centre in the heart of Casey's growth zone is open for residents to use.
The Ramlegh Family and Community Centre in Clyde North was officially opened on Friday 9 April by Bass MP Jordan Crugnale and chair of administrators at the City of Casey, Noelene Duff.
The construction of the facility was made possible thanks to a partnership between the City of Casey and the State Government's Growing Suburbs Fund.
The project received $1.18 million the 2017-18 round of the Andrews Labor Government's Growing Suburbs Fund, which supports the creation of community connections and enhanced services.
The City of Casey contributed $100,000 to the project.
In addition to these sources was $4.1 million in funding from developer contributions.
The building houses a number of family-friendly facilities, including three kindergarten rooms and consulting rooms for maternal and child health services.
There is also a multi-purpose community room that can be easily adjusted depending on community needs.
Additionally, Ramlegh houses a staff breakout room, playground, fully equipped kitchen and courtyard
Since its soft opening in January 2021, there has been strong interest in using the facility.
Already, it has played host to playgroups, parenting programs, school holiday groups and training programs.
Speaking at the official opening event, Ms Duff said the Ramlegh Family and Community Centre was "very much needed" and filled a gap in local services, providing a safe space for families and residents to gather and access services.
Ms Crugnale described the facility as "stunning" and "welcoming" as she paid tribute to the staff working behind the scenes to run programs from the centre.
"It's great to see the partnership with Council and the Andrews Labor Government's Growing Suburbs Fund build and deliver wonderful projects like the Ramlegh Family and Community Centre, providing vital services and a community meeting place to our growing Clyde North," she said.