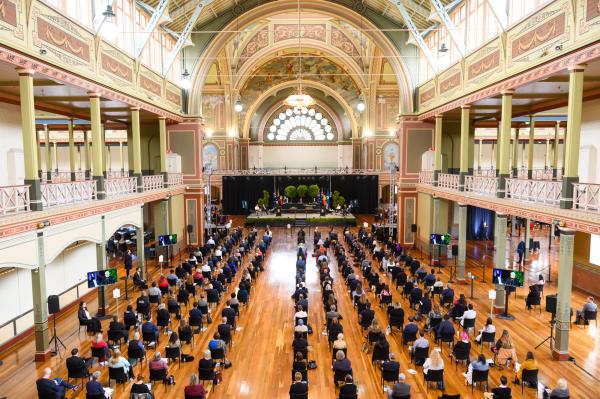 By Danielle Kutchel
Politicians have welcomed the recommendations handed down in the final report from the Royal Commission into Victoria's Mental Health System.
In total, the report makes 65 recommendations to improve the state's mental health system.
Some of these include the provision of beds, establishment of new local, area-based and statewide support services incorporating crisis response, collaboration with helpline services, the establishment of community collectives for mental health in each local government area, the establishment of mentally healthy workplaces, support for mental health programs in schools and provision of support across all age groups.
The State Government has committed to implementing every recommendation in the report.
The report also uncovered a system riddled with problems, including inequitable access to services, an overreliance on medication as treatment, an under-supply of community based services and a system that was struggling under the weight of demand.
Welcoming the report, Cranbourne MP Pauline Richards said State Government recognised that the profound failures of the current system had sadly cost lives.
She said the report would provide a plan for a new system, built from the group up and guided by expertise of those with lived experience of mental ill-health.
"Mental health impacts all of us in Cranbourne. If it's not our own direct experience, it's people we know and love," Ms Richards said.
"This year we've lived through a global pandemic and all the stresses that have come with it. Now, more than ever, we need a new mental health system for all Victorians."
Bass MP Jordan Crugnale said the recommendations would ensure that residents in the Bass electorate would have access to better treatment, care and support closer to loved ones.
While both MPs recognised that "there are no quick fix solutions", they said the 2020-21 Victorian State Budget includes $868.6 million to focus on priority areas such as acute mental health beds, suicide prevention, Aboriginal social and emotional wellbeing, and support for the mental health workforce.
The final report included a case study of the Cranbourne Integrated Care Centre, which provides mental health and rehabilitation services to patients along with other health care services.
The centre is an example of the integration of primary mental health and specialised services.
Andrew Stripp, CEO of Monash Health which oversees the centre, said its broad range of functions allowed for internal referrals to other related services for patients.
"A large proportion of consumers have mental health needs and Cranbourne Integrated Care Centre's integrated model has a range of benefits for those people," he said in the report.
"This includes the experience of coming to a health service that doesn't say 'mental health' in its title, where people can access treatment and support for a wide variety of health needs including mental health treatment."
The report notes that Cranbourne Integrated Care Centre allows visitors to access specialist mental health staff, as well as shared care with a GP.
The centre also has connections with community programs and not-for-profit community organisations that can provide additional health and wellbeing support.
The model is set to be replicated in a community hospital at Pakenham.
The Royal Commission was established in 2019 and heard from 99 witnesses across 19 days of public hearings; received 3267 submissions; and conducted over 100 focus groups, roundtables and forums.
More than 150 statements, including over 40 from people living with mental illness, psychological distress or family members and carers, were received.
Lifeline – 13 11 14 or www.lifeline.org.au for online chat or text support
Beyond Blue – 1300 224 636 or www.beyondblue.org.au for online support