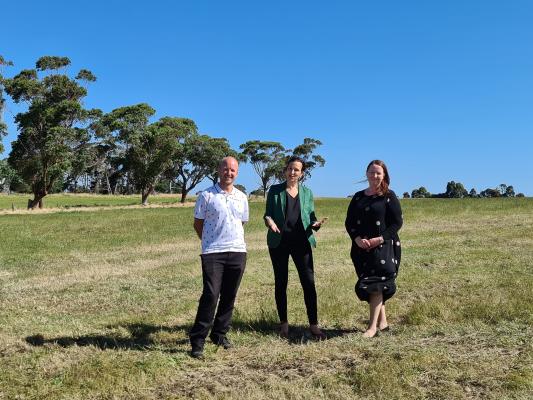 A builder has been appointed for a new primary and secondary school in Clyde North.
On Tuesday 23 February, Bass MP Jordan Crugnale announced that the State Government had appointed J Hutchinson Pty Ltd (trading as Hutchinson Builders) to build a primary school on Elliston Avenue and a secondary college on Woodfield Avenue.
The two schools are referred to with interim names 'Clyde North Station Primary and Clyde North Station Secondary' and are part of the State Government's commitment to open 100 new schools by 2026.
Students and staff at Clyde North Station Primary School will have access to facilities including an administration and resource intensive learning building, two learning neighbourhood buildings, a performing arts and physical education building, sports field, multipurpose hard courts, playgrounds and car parks. Every new Victorian primary school being built from 2021 will also have a kindergarten on-site or next door.
At Clyde North Station Secondary College, in stage one, students and staff will have access to facilities including administration and learning resource centre building, a STEM building, a performing arts and physical education building, a learning neighbourhood building, Stage one car park, bike shelters, multipurpose hard court and landscaped outdoor play and learning areas. Works are expected to begin in early 2021 with the school to be open by term one, 2022.
"The appointment of J Hutchinson Pty Ltd means we are ready to bring the community's vision for a new primary school and secondary college in Clyde to life with students to learn in first-rate facilities," Ms Crugnale said.