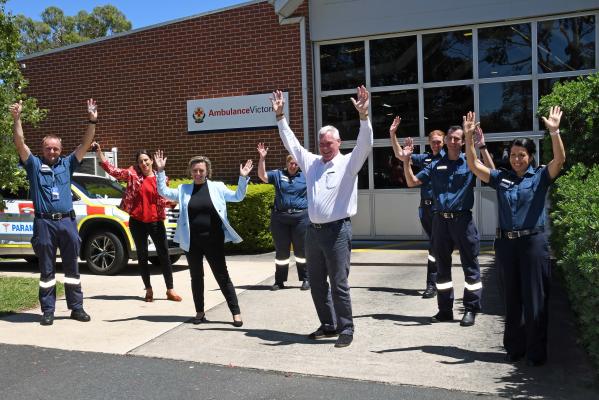 By Danielle Kutchel
A new state-of-the-art ambulance station will be built in Clyde North to serve families in the rapidly expanding suburb.
On Tuesday 9 February Parliamentary Secretary for Health Steve McGhie and Bass MP Jordan Crugnale announced that, after an extensive search, land for the Clyde North Ambulance Station has been secured at 69 Matterhorn Drive, Clyde North.
The facility will feature four beds and four bays as well as a modern training room for paramedics to use, and is expected to be completed by the end of 2022. Building is set to commence later this year.
Visiting the Cranbourne Ambulance Station on the day of the announcement, Mr McGhie expressed his gratitude for the hard work of local paramedics, especially during the pandemic.
Mr McGhie, Ms Crugnale and Cranbourne MP Pauline Richards sat down for a chat and a cuppa with paramedics in Cranbourne, before touring the site of the new Clyde North station.
Mr McGhie said the facility would service the "massive growth area" of Clyde, and added that as an ex-ambulance officer, he was excited to see an increase in the facilities available.
Paramedic and Ambulance Victoria metro regional director, Narelle Capp, said the announcement had put a "pep in the step" of local paramedics.
"It makes paramedics feel valued," she explained.
Local ambulance staff have been working hard to service the area and meet rising demand, she said.
"Looking ahead, we know we need more coverage and resources to continue serving this growing community.
"That's why we're so excited about the establishment of the new Clyde North branch, which will mean that this community can continue to receive the best care, every time."
She said the chosen site meant that paramedics would be embedded in the heart of the community.
"It's about making sure we have the right people at the right time, and we will," Ms Capp said.
The new ambulance station will also complement the recently-announced Cranbourne Community Hospital, which is set to be built on Berwick-Cranbourne Road.