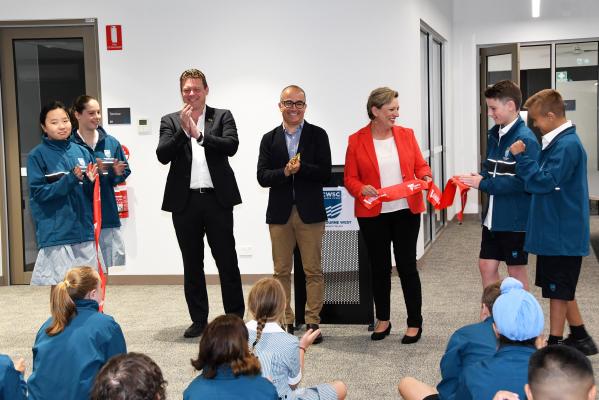 By Mitchell Clarke
The doors of Cranbourne West's newest secondary college have officially opened, with almost 190 students officially beginning their high school journey.
Education Minister James Merlino joined Cranbourne MP Pauline Richards on Friday 29 January to officially open Cranbourne West Secondary College.
The government officials met with school principal Rob Duncan and community representatives for a tour of the school.
"The first day of school is a big day every year – but particularly after the year we had last year. I thank every teacher, student and parent for their efforts last year and wish them well for the year ahead," Mr Merlino said.
He credited the design and build of the school, stating: "I love it. The quality of the finish, the natural colours, the openness, it's just amazing."
The Minister said the completed project was a "prime example" of the State Government's school building boom across Victoria.
Cranbourne West is one of 14 new government schools to open across Victoria in 2021. Another secondary school, Edenbrook, also opened in Pakenham.
"Growth is one of the major factors in terms of where we invest – whether it's upgrading a school, expanding a school or building a new school," Mr Merlino said.
"It's quite extraordinary just the sheer numbers that are coming through this area. I was at Ramleigh Park primary school (in Clyde North) and on day one we had 460 primary school kids on the first day at a brand new school.
"Schools are the best way that you create a sense of community and we're building them right across the state and we're building them where there is enrolment demand."
Cranbourne West Secondary College has 187 students starting this year, and is one of 14 new schools opening in 2021.
The school will cater for up to 1100 mainstream and 100 specialist students once all stages are complete and includes a new learning community, visual arts building, a Science, Technology, Engineering and Maths (STEM) building, an administration building, sports field and two outdoor play courts.
As a supported inclusion school, additional facilities are included in the design to accommodate students with additional needs, such as wider corridors, more spaces for consultation classrooms, a project/kitchen space for students with special eating requirements and a fitness room for therapeutic use.
"We work very closely with the Victorian School Building Authority to make sure that, as the population grows, we're providing the facilities to meet that demand and we'll keep doing that," Mr Merlino said.
"There's more that we need to do, whether it's future stages or upgrades for other schools. Families love this area and the demand is there and we're investing to make sure that we keep up with that demand."
Cranbourne MP Pauline Richards said: "Every student in Cranbourne deserves access to a great local school close to home and that is exactly what we are delivering."