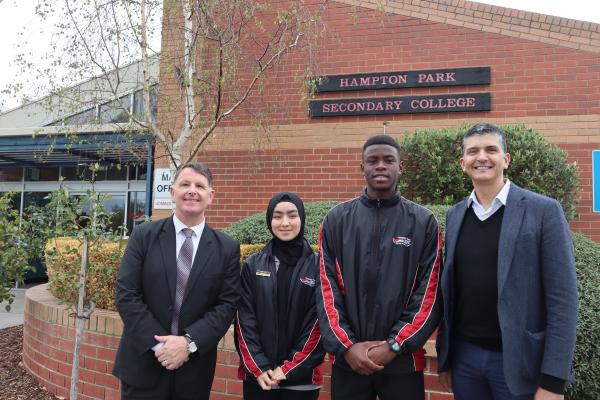 By Jessica Anstice
Some good news has come out of a challenging year for the Hampton Park Secondary College community.
The college is set to receive more than $7.5 million as part of the 2020/21 State Budget to upgrade and modernise its facilities.
Education Minister James Merlino and Narre Warren South Member Gary Maas made the announcement last week, following the $563,000 announced through the Infrastructure Planning and Acceleration Fund.
"This is an investment in our kids and their future," Mr Merlino said.
"Because every child, no matter where they go to school, deserves access to state-of-the-art facilities.
"Schools are the heart of our communities, so it makes sense that we're investing in upgrades to support local jobs to drive our economic recovery."
Hampton Park Secondary College principal Wayne Haworth expressed his gratitude towards Mr Maas for his continued support to help transform learning at the college.
With just under 1200 students enrolled, he said he is feeling "incredibly excited" about the upgrades.
"We're very excited. This community deserves it and it's going to enable us to further transform our learning spaces.
"I arrived at the school two years ago and I'm just really excited to bring a new vision to the school around empowering students with their learning whereby learning is done with the students and not to students.
The funding will enable the college to begin planning for the third stage of its upgrade, which will see a wellness centre built for students to access when needed.
Stage one and two of the upgrade will be undertaken next year, with classrooms converted into double storey buildings and the old technology wing transformed into a 21st century STEM and arts facility.
This investment builds on the $1.18 billion as part of the Building Works Package announced earlier this year, which is creating space for more than 21,000 extra students in the state's education system and creating around 1600 local construction jobs.
Mr Maas said families in Hampton Park have done an "incredible" job in supporting students to learn from home.
"Now they're back in their classrooms, we want to make Hampton Park Secondary College even better than before," he said.
"Not only will this funding make sure our kids are getting a great education – it will create new local jobs."
Across the state, the State Government is delivering 1460 school upgrades – investing in new classrooms, fixing old buildings and delivering new learning spaces.