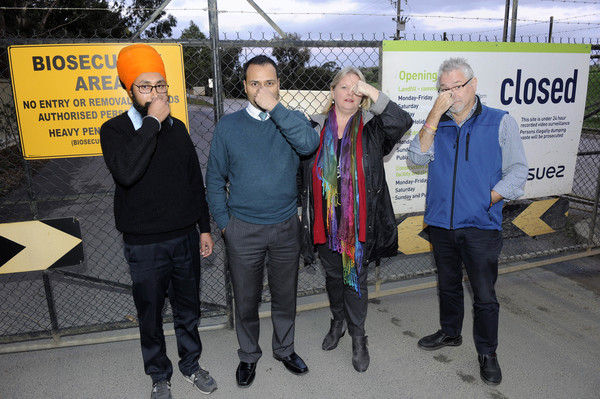 By Danielle Kutchel and Mitchell Clarke
Residents living near a Hampton Park tip have kicked up a stink about a strong odour coming from the site in recent weeks.
A strong sewerage smell coming from the Suez Recycling and Recovery centre was reported to the Environment Protection Authority (EPA) about two and a half weeks ago.
While the odour has started to subside, Lynbrook Residents Association (LRA) secretary Margie Raman said the smells would come and go.
"When there is no odour, it's fine, you wouldn't even know the tip was there but when you do get that odour, it becomes unbearable," she explained.
"There was a slight odour on Tuesday (11 November), but it wasn't nearly as severe as it has been in the past."
Narre Warren South MP Gary Maas said he understood the EPA was working alongside local government to address issues at the Hallam Road site.
"I am aware of the excessive odour issue – I have received several communications from Hampton Park residents about this throughout different times of this year," he said.
"It is just not on that the excessive odour issue hasn't been resolved."
Star News understands the EPA conducts regular inspections of the landfill site and takes regulatory action to hold the operator to account if compliance isn't met.
In 2017, the facility was fined nearly $8000 by the EPA for the escape of odour outside its landfill boundaries.
In a statement on its website, Suez attributed the issue predominately to leachate treatment, saying that "leachate … has been on site for longer than its usual cycle".
Leachate is liquid that has come into contact with waste in the landfill and is treated on site before being discharged to the sewer, according to the statement.
Suez said it had taken action to address the management of leachate, with improvements including "dosing the leachate ponds to help promote improved bacteria that will speed up the treatment process and address the components that cause odour [and] gradually introducing aerators to support the treatment of material in the leachate ponds".
The statement added there had been a reduction in odour from the leachate since improvements were made.