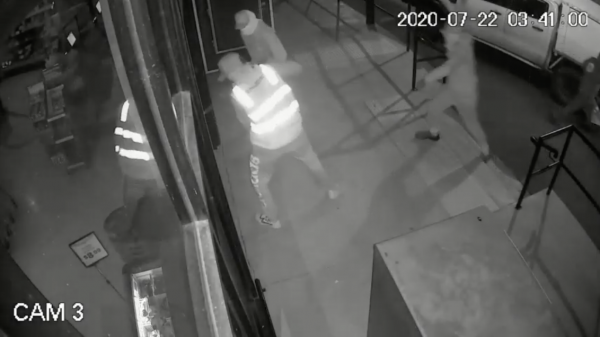 By Brendan Rees
Would-be thieves have used a sledge hammer to try to break into a Tooradin supermarket in the early hours of Wednesday 22 July.
FoodWorks manager Jon Hewitt said four males pulled up in a Toyota Hilux when they tried to smash their way into the South Gippsland Highway store at 3.40am.
"They tried for a minute and realised it wasn't going to be an easy entry for them so they bailed," he said.
CCTV captured the bandits smashing the front glass door repeatedly.
"One guy just popped the crow bar in between the doors; tried to wedge the doors open," Mr Hewitt said, while another threw up a blanket onto the glass before striking it with a sledgehammer.
"The glass flew probably 20 metres … they were hitting hard," he said.
"The glass obviously held up which is great. Since then we've replaced our locks and put a couple of extra locks on."
Mr Hewitt said the males left the scene and drove off.
He said the Hilux had muddy tyres and a steel canopy but a registration was able to be obtained.
The males were described as 18 to 27 years old and of slim build.
One was wearing grey track pants with a fluoro Adidas logo on the side.
On the same morning between 3am and 4am, thieves also broke into the Hair Ware Fashion store at Southland Gippsland Highway in Tooradin, where intruders stole $20,000 worth of stock. However, it's not known if the two incidents are linked.
A Victoria Police spokesman said police were investigating the incident.
"Police are investigating the exact circumstances surrounding the incident and the investigation is ongoing," the spokesman said.
Anyone with information is urged to contact Crime Stoppers on 1800 333 000.