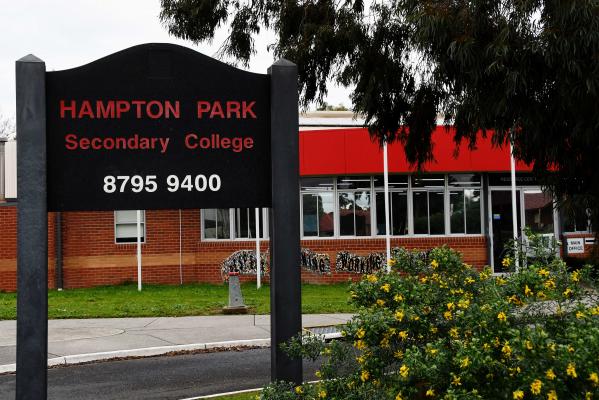 By Brendan Rees
Hampton Park Secondary College has been closed for at least three days after a student tested positive to coronavirus.
In a message sent to parents, carers and students, seen by Star News, Principal Wayne Haworth said: "The school will be closed to all students, staff and members of the community. This closure will allow time for the school and DHHS to undertake a full risk assessment. The closure will also allow appropriate cleaning of the school site to occur on the recommendation of DHHS."
Mr Haworth confirmed the positive result, saying the school was working closely with the Department of Health and Human Services (DHHS) including contact tracing and cleaning.
"It is school holidays so it's not impacting student learning. I do know that the young person has mild symptoms," he said after the student underwent a test on Saturday 27 June.
DHHS would look closely at contact tracing in the 48 hours prior to the student being tested with a focus on Thursday 25 June when the student was at school during that period.
"We had a reporting day on the last day of school. This was a student free day."
Mr Haworth said he would send a message updating the school community to alleviate any concerns.
All students and staff are currently on school holidays and are expected to return on Monday 13 July.
In a statement, a Department of Education and Training spokesperson said DHHS had recommended the closure of the school after a confirmed case of coronavirus infection was identified.
"Hampton Park Secondary College was closed to all students and staff on Friday 3 July, so that contact tracing and cleaning can occur," the spokesperson said.
"We wish the student a speedy recovery and look forward to welcoming them back to school once they've recovered."
The Education Department said the school is shared with the Noble Park English Language School.
"After considering the physical distance and operating model of the language school, the Department of Health and Human Services advises that there are currently no implications for its students or staff," the Department said.
"As a result of this advice the language school has not been closed. However, staff and students will not be able to access the site until Hampton Park Secondary College reopens later this week."
The State Government has invested up to $45 million in enhanced daily cleaning in schools.
The Department of Health and Human Services has been contacted for comment.