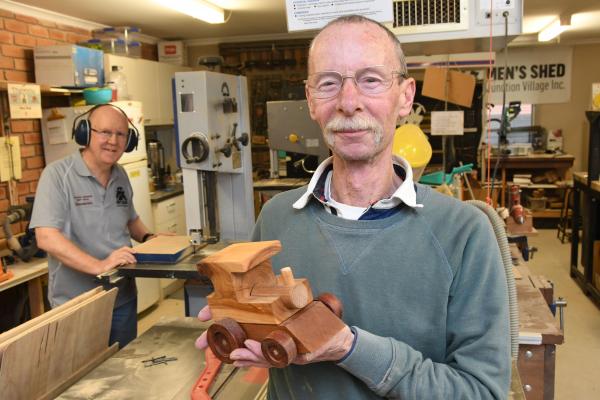 By Brendan Rees
It's been a long wait but they're back on the tools and loving it!
Men's Shed members across Casey are returning to their sheds and knocking about with their mates again after the pandemic forced their closure.
It comes as the Australian Men's Shed Association launched new online initiatives to help keep older men connected during the shutdown.
Casey's Junction Village Men's Shed secretary Garry Cahill said its members were excited to be back and seeing their mates face-to-face again – just in time for Men's Health Week from 15 – 21 June.
"It was quite a break," he said, humouring that "their wives are very happy to see them go for a while too".
He said the members were allowed to attend the shed two days a week during the shutdown – to cut some timber and take it back home to work on projects.
"Some of the guys have been at home making toys if they've got the machinery to do it."
The shed officially reopened on Tuesday 9 June where there were plenty of smiles to mark the occasion.
Mr Cahill said the closure has been contradictory to the fundamental purpose of the movement – which is in the name of preventing social isolation.
And the men wasted no time getting back to work – by making a range of wooden toys which will be donated to the Cranbourne Salvation Army in December and distributed to disadvantaged families for Christmas.
"We had 310 last year," Mr Cahill said. "We're probably up to 100 at this stage but we're pushing ahead now. We're hoping that we will get to that target."
Mr Cahill said the shed was looking for more members to join with the promise of friendship and a sense of purpose.
He said the shed not only offered woodwork and manual crafts, but an environment where men from all walks of life had the opportunity to participate meaningfully in their community.
For membership enquiries contact Mr Cahill on 0408 141 734.